Nyack was alive with the sound of music this summer. In addition to concerts in the Carnegie Room at the Nyack Library and the Mostly Music series in Memorial Park, live music filled the air in Nyack this July. Joining the fifth annual Nyack Jazz Week that concluded on the 28th, Walk the Beat turned local streets into a dance floor on the 21st, and First Friday has become a new venue for outdoor performers.
This Thurs., Aug. 1, the oldest of our outdoor music festivals, the Music in the Garden Jazz Series at the Edward Hopper House Art Center offers their final performance of the summer featuring the Matt Havilland Quintet. (In case of rain the performance will be held at Grace Church, 130  First Avenue)
But the beat goes on. Here are some of the remaining world class music events in Nyack this summer.
SUMMER MUSIC CALENDAR
First Friday, August 2 (Performance at 5p)
Gazebo in Veterans Park on Main St.
Mostly Music in Memorial Park (concerts start at 7:30p )
August 6: Frankie D. and the Boys
August 13: Giscar Smith and Lanbassa, Paul Roach and Young Lions
visit friendsofthenyacks.org for weather information and updates.
Carnegie Room Concerts (Performances start 7:30p)
Nyack Library, 59 South Broadway
August 2: Chip Larson & The Cat Fight Blues Band
August 9: Jesse Yanko Memorial Concert
August 16: Remembering Richie Havens and the Motown Legends with Sam Waymon and the Magic Band
August 23: Chicago Blues to the British Invasion with the Roues Brothers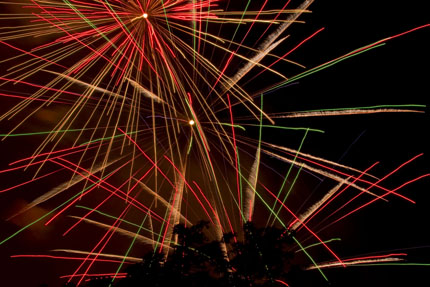 Revisiting Nyack's 4th of July Fireworks
Photographer Ray Wright has documented the sights of the sounds this summer. If you want to see more of Ray's work, his exhibit, Revisiting Nyack's 4th of July Fireworks will be on display on the lower level of the Nyack Library for the month of August
All Photos by Ray Wright
Ray Wright was the official photographer for Wright Brothers Real Estate, an agency that his father and uncle founded and that he ran for 40 years.  Ray's photos are available for sale at Bee Alive, 19 North Broadway, Nyack, NY.