For over a century, our region has been home to extraordinary artists. Local Arts Index highlights the work of individuals who continue our community's rich creative legacy.
Meet tapestry weaver and watercolorist Donna Davies Timm.
How Did You Become an Artist?
I grew up in Port Talbot, a romantic, blue collar, industrial seaside town on the South Wales coast of the United Kingdom. My entire childhood was spent drawing.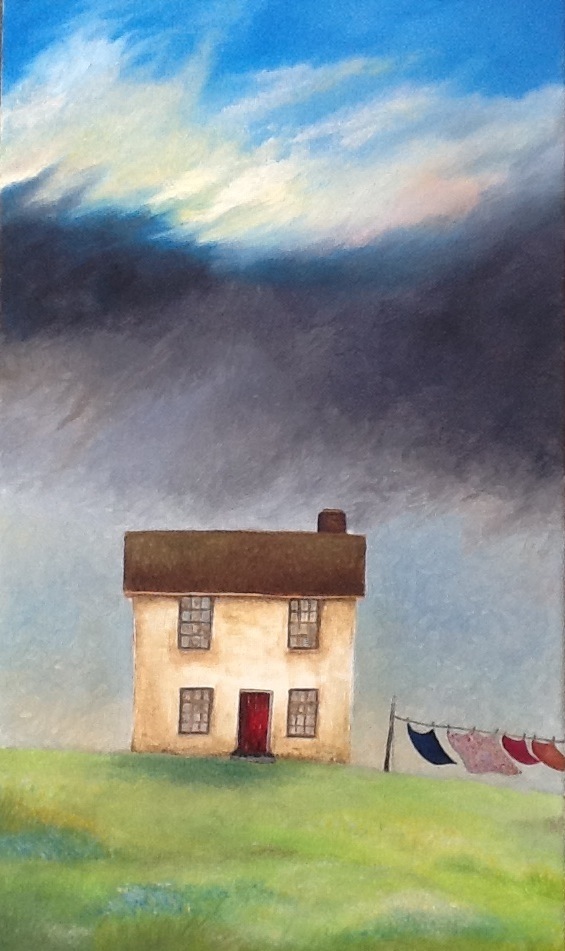 It's hard for me to understand children who say they're bored; I don't think I ever felt boredom.
People were very practical and down to earth in my hometown and during the 80s; it was quite something for me to go to Art College. Neighbors had a lot of concern for my future job options!
Four years of college led me on a creative journey from my original focus on becoming an illustrator (but got disheartened by not being able to keep my paper clean) to textiles. I ultimately specialized in tapestry weaving.
I was fortunate to study under Lynne Curran and Candace Bahouth both alumni of the Edinburgh Tapestry School lead by Sax Shaw and Archie Brennan. Graduation not only fulfilled my dream of exhibiting at the Royal Academy of Art in London, but I was also commissioned to create a commemorative tapestry, which hangs in Carlisle Cathedral, UK.
I worked as a full time tapestry artist until I emigrated in 1993 and married my childhood pen pal and soul mate, Bob Timm.
What Kind of Art Do You Make?
Although tapestry weaving has been a huge part of my life as an artist, it's far too time consuming, and currently I don't have a place for it in my life figuratively or practically!
Watercolor has become my favored medium. I love the luminescence, fluidity, speed and ease of use. It's forgiving, there are no mistakes and it is simple to set up and go!
Watercolor paint was what I reached for during last summer's Flash Sketch Mob. This was my first leap to become involved with Nyack's art scene. From that point, I exhibited a piece at The Corner Frame Shop celebrating the Tappan Zee Bridge. That piece is important to my family; I painted it from a photograph taken the evening we crossed the bridge beginning our new life here.
I regularly attend figure drawing at the Nyack Center run by Janet Hamlin. Figure drawing is a passion of mine. It's challenging and rewarding. The Thursday group is a unique collection of artists who encourage and inspire. It's a jewel in my life here. 
What's Your Muse?
Every Artist constantly looks at everything as inspiration. However, there's something special about this town and I'm not the first to say it, Nyack glows. It has an abundance of inspiration from its Victorian architecture to the way light falls upon a leaf.
What's Next?
I am happy to be a member of the Nyack Art Collective. Currently, I have one small piece at the NAC group show at Vincent's Ear.  I am looking forward to presenting more examples of my work at future First Fridays venues. I am excited to be part of the upcoming 2013 Flash Sketch Mob in October.
Personally, I am moving forward building my family nest here in Nyack. I hope to continue to meet people who raise up my heart: the nurturing families of the Nursery School of the Nyacks and our new neighbors and friends. I feel I have been traveling for a long, long time and have finally arrived.
To see more work by Donna Davies Timm visit Nyack Art Collective.
Donna Davies Timm Photo Credit: Bill Batson
Local Arts Index is sponsored by Maria Luisa, 77 South Broadway and ML Gifts & Accessories, 75 South Broadway, Nyack, NY