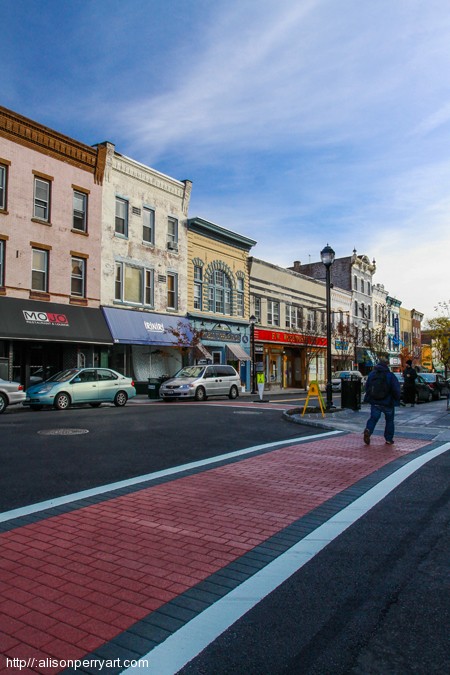 Nyack has been in the news twice this week because of paint. On Monday, the village was selected by Benjamin Moore as one of 20 communities in the US and Canada to receive a free downtown makeover. On Wednesday, a South Nyack resident made the national nudes when his Times Square media event which covered naked models with body paint received worldwide attention.
Benjamin Moore selected Nyack and 19 other towns based on 32,000 votes cast online in their Paint What Matters promotion. The winners will get color consulting and a fresh coat of paint in selected areas of their respective down towns. Final Nyack details are still being worked out, but it is expected that Main Street from Franklin to Broadway will be included as well as part of South Broadway near Main Street. "I feel like this little victory, this wonderful gift to beautiful downtown Nyack from the Benjamin Moore company is just a tiny little bit of something nice, a thank you for all of our hard work and our optimism," said Nyack Mayor Jen White in a post on Nyack-NY.gov.
Thousands of votes were tallied to get Nyack to the top of the list. Now the challenge is how to get Brad Pitt and take a victory lap around the village. The film star has signed on as a spokesperson for the Paint What Matters campaign. Pitt is also founder of Make It Right, a foundation that builds healthy homes, buildings and communities for people in need.
While Paint What Matters: Nyack awaits final details, color swatches, vendor selection and approval by the village's Planning Board, the Architectural Review Committee and the Zoning Board of Appeals, another painter from South Nyack was hard at work making art and headlines, too. Two years ago Andy Golub was arrested for putting paint on nude models in public. The charges were later dropped when Golub promised to limit future clothes-free public painting until after dark. On Wednesday, he was back in Times Square painting nudes, drawing crowds and getting media attention from around the corner and across the ocean. Like it or loathe it, Golub's media event was an art triple play: the application of paint to human bodies; the artful balance of free speech and public nudity; and the careful photography delivered by news organizations trying to set the correct exposure for a subject that was already overexposed.
See also:
Photo Credit: ©2013 alison perry