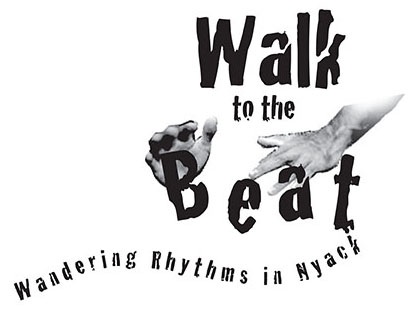 Is it a concert, or a dance, or the world's longest Samba line? That is a question you may find yourself asking in you are in Nyack on Sunday July, 21.  The wandering rhythms that you will encounter are part of a percussive music and dance festival called "Walk to the Beat."
Walk to the Beat is being produced by local dancers Anna de la Paz (flamenco) and Heather Cornell (tap).   They are both committed to finding ways to combine their commitment to community with the excitement of percussive performance. "We are very excited to kick off this new event in Nyack", said de la Paz  "There are so many wonderful artists who live in Rockland County and though many are internationally renowned, they rarely have an opportunity to play at home," her creative partner Cornell added.
On Sun, July 21,  the village will be alive with percussive music and dancing feet . You may stumble into a tap dancer at the European Chocolate Shoppe, an African balafonist at Harry's Burritos or a concert at the Hopper House or the gazebos at Memorial Park and on Main Street.
If you want to beat the heat, "Walk to the Beat" to the Nyack Center where anyone can try their hand at percussion, check out the merchandise, get schedules and maps, or simply cool off.
At the end of the day at 6p, Walk to the Beat will culminate in a "jam session" in Memorial Park, where artists and festival-goers will be welcome to participate and play music together.
Walk to the Beat is made possible thanks to a grant from the Arts Council of Rockland and is sponsored by Nyack Center and Friends of the Nyacks.
For more information, visit walk to the beat or call Anna de la Paz at 845-596-5156 or Heather Cornell at 845-480-1396