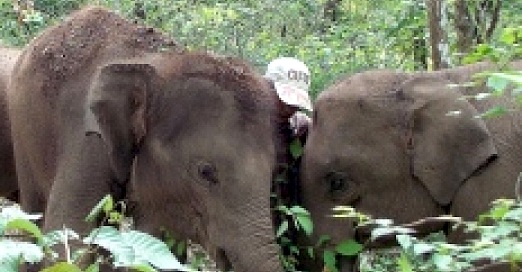 by Claudia Lifton-Schwerner
Nyack High School and SUNY Oswego graduate Claudia Lifton-Schwerner won a Facebook contest to blog on behalf of Global Vision International (GVI) about their animal and environmental protection projects around the world. Her first stop was the Yucatan Peninsula of Mexico. Her latest blog post is from Thailand.
I have spent the past two weeks of my journey with two of my best friends, blissfully exploring all that Thailand has to offer. We, first, visited over twenty elaborately decorated, breath-taking Buddhist temples in Chiang Mai, Bangkok and Pattaya.  We reveled at their sheer size and beauty.  Additionally, we've been able to eat some of the most delicious, traditional Thai food, sunbathe on white sandy beaches, and shop (maybe a little too much) at the Chiang Mai Night Bizzare, aka shopper's paradise.
Of course I haven't gone anywhere without the five hundred copies of educational fliers that I made during my first day back from base.  After many years of being an animal rights activist, I have learned that outreach and education are the most crucial and effective methods of change. I have been handing out informational leaflets to every tourist I can hunt down about the realities of animal tourism in Thailand.  One page focuses on elephant camps, the other is dedicated to revealing the horrors of Tiger Kingdom. Tiger Kingdom is a huge tourist trap, offering patrons an opportunity to closely interact with tigers, without acknowledging that  they beat and drug the helpless animals for the protection of customers.  My favorite moments are when uneducated people
read the information that we provide, and then avoid the temptation of taking a cool picture with the wild beasts and further promise to spread the word to their friends and families back home.  Since I'm already shamelessly promoting my cause, I might as well lay it on a little thicker.  My Charitable Trust site for my spay/neuter project in SIlana Village of Fiji is finally finished!
The most special experience of the trip was visiting an elephant sanctuary that rescues and rehabilitates elephants from tourist camps. The day was beautiful, but difficult at the same time.  Hearing the horror stories that were these elephants' lives before they were rescued by Elephant Nature Park was devastating.  We spent most of the day in tears – both out of joy for their rescue and sadness for their pasts.
As if seeing the thirty five rescued elephants wasn't enough, we then had the very special privilege of meeting the woman who started it all – Lek Chailert.  I have never before admired someone so much after knowing them for only one day.  We watched as she sang lullabies to the three month old baby while rubbing traditional Thai medicine on her wounds.  The other elephants fought for her loving attention.  I have never seen anyone so deeply loved by animals before, and they have a reason to feel so strongly about her.  This powerhouse of a woman has single-handedly rescued all of these elephants and nursed them back to health. It was an incredible day that will positively impact me forever.