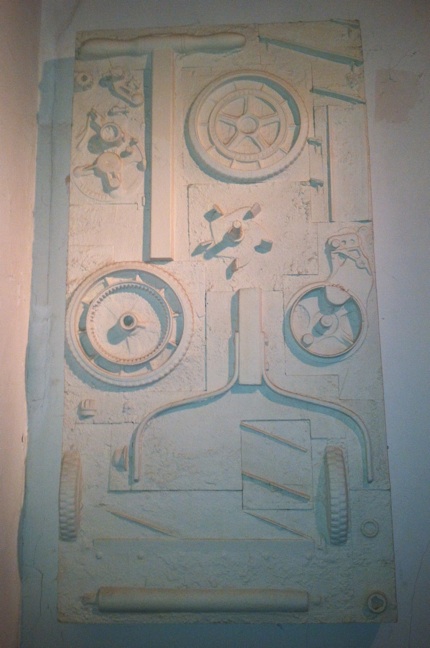 In "Papa's Box" and Other Artifacts, Bill Rauschenberg explores the history of his family through a tool box handed down by his great grandfather.  The dissembled tools, decontextualized and transformed into wall mounted panels, are on display at p.ross at 89 Main Street.  There will be an artist's reception on Friday, July 12 from 6:30 – 8:30p.
Using the lost art of sand bed casting, Rauschenberg has constructed bas-relief panels composed of the composite parts of tools that were handed down to him from his great grandfather, WT Braswell.  The exhibit's title, "Papa's Box" was drawn from a chalk inscription in the lid of a wooden toolbox written by his grandfather, TK Braswell.
"The box and the tools inside were passed down from father to son to grandson; three generations of "hands-on" use, each adapting them to their own needs and using them to build their own dreams," said Rauschenberg.
On display is a cast of a 1928 Coldwell Lawn mower, a brand once manufactured in Newburgh, New York.  The factory was eventually acquired by the Toro Company and shut down in the 1940s.
The casting technique allows the viewer to appreciate the elegant form and consider the ingenious function of each individual part of the hand operated and mechanical tools used by Rauschenberg and his ancestors. Taken as a whole, the panels are reminiscent of the intricate constructions of Louise Nevelson.  Taken separately, some tool parts evoke the poetic simplicity of the sculptures of Constantin Brancusi.
As you examine a deconstructed pair of hand sheers, you can feel the craftsmanship and pride that must have gone into the production of the tool.  The memories of hundreds of tasks that were accomplished with the instrument are enshrined in the sand casting.
Rauschenberg retired in June after 23 years as an Elementary Grade Level Art Specialist.  Prior to his time in the classroom he spent ten years in Marketing and New Product Development. He lives with his wife, Diane, in Upper Nyack.
It seems that in retirement, Rauschenberg is increasing his creative output.  He has participated in the last two Nyack Art Walks.  In 2012, Rauschenberg was a member of the Flash Sketch Mob that was organized on the second day of the annual arts festival. On Saturday, June 15, 2013, Rauschenberg presented "Shell We Art?"  The interactive exhibit was installed on the lawn of the First Reformed Church. Every hour starting at 1pm and ending at 5pm. Rauschenberg's "Art Machine" allowed viewers to explore the definition of what is and isn't art.
Papa's Box and Other Artifacts can be seen at p. ross through August 4. For more information call 845 348 1767.