by Ashley Tedino
School's finally out for the summer! The days of sleeping late and playing outside with friends are in full swing. Although these are carefree times for kids, parents might be concerned that their children might forget some of what they learned during the previous school year. What's the right balance between free play and reading for fun? Here are some tips on building a great break from school with good habits that will last a lifetime.
Summer Reading has its pros and cons for children and parents, but from a teacher's perspective, it offers lots of benefits. Reading as little as 20 minutes a day can improve a child's vocabulary and fluency. Children work so hard throughout the school year — it would be a shame to lose that hard work and progress with a bookless-summer.
Summer months that go by without engaging in learning activities present a real academic risk for school-age children, particularly for those from low-income families. In fact, a recent survey conducted by the National Summer Learning Association found that 77 percent of teachers agreed or strongly agreed that students who participate in a summer learning program are better prepared for school in the fall.
Low-income youth also lose more than two months in reading achievement, while their middle-income peers make slight gains. These losses are cumulative and lead to a widening achievement gap, placement in less rigorous high school courses, higher high school dropout rates, and lower college attendance.
Press Release, Sylvan Learning Center
It doesn't matter if children are reading from books, magazines or iPads: it's all good! When children see their parents or older siblings reading, they will be eager to take part in the learning adventure. Parents can also print worksheets from Websites at home where children can practice phonetic skills and reading comprehension. For others, Barnes and Noble and Dollar Stores have workbooks that reinforce skills and prepare kids for the upcoming grade.
Here are some of the reading events taking place in the Children's Room at the Nyack Library this Summer:
Children ages 5-11 can join the free summer reading program runs until August 2. Children are encouraged to read for 20 minutes a day and should record their books on a reading record. Once the two hour goal mark is reached, children can bring in their record sheet to the library to get a sticker and a raffle ticket. When the child reads for four and/or eight hours, they are entitled to claim a prize from the treasure chest.
The Children's Room also has a Teen Book Buddies program this summer. Children have the choice of reading to their teen book buddy or having their book buddy read to them. Book Buddies is offered during specific time slots and on a first come first serve basis. The book buddies have twenty minutes of reading time together. This is a wonderful event for children to practice reading out loud.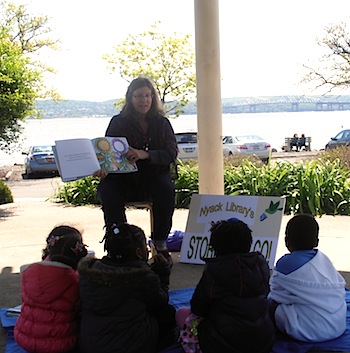 The program hours are Mondays 1:30-3:30, Wednesdays 3:30-5:30, Thursdays 5:30-7:30 and Saturdays 10:30-12:30 . For more information, visit NyackLibrary.org.
Ashley Tedino is a recent college graduate from Dominican College. She is a teacher in North Jersey.
See also:
Photo: Betty Perry, reading to children at outside the Depew House in Sept. 1964. Credit: Rockland Journal News via Nyack Library
Photo: Nyack Library Stories To Go, May 2013