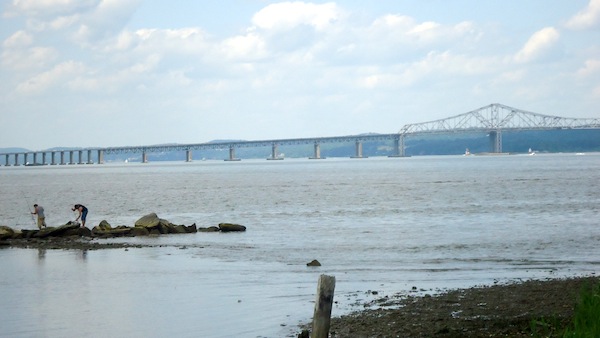 by Bill Demarest
Additional charges are being considered against the Nyack man who drove the boat in Friday night's double fatal accident on the Hudson River near the Tappan Zee Bridge, according to the Rockland County district attorney. D.A. Thomas Zugibe said on Monday his office is working with the Rockland County Sheriff's Department and other law enforcement agencies in an investigation of the crash that killed bride-to-be Lindsey Stewart of Piermont and Mark Lennon of Pearl River, who was to be the best man at Stewart's wedding in August.
Jojo K. John, 35, of Nyack, has been charged with vehicular manslaughter and vehicular assault by the Rockland County Sheriff's Department. He was the driver of a 19-foot powerboat that struck a barge stationed on the river for the construction of the new Tappan Zee Bridge. John, who was also injured in the crash, is accused of being intoxicated while he was driving the boat and was arraigned at Nyack Hospital on Saturday with bail set for him at $250,000.
"The investigation into this tragic accident will be detailed and complete, including survivor and witness interviews and thorough analysis of evidence," said Zugibe, who noted his office is seeking upgraded charges against John. Zugibe said the investigation is awaiting results of State Police toxicology tests and autopsies by the Rockland County Medical Examiner's Office. A Rockland County grand jury will be reviewing the incident and charges against John.
As part of the investigation, Sheriff's Department investigators on Monday are on the river trying to recreate the accident and learn more about what happened.
The boat crash took place about 10:40p on Friday near the Tappan Zee Bridge. John had five passengers in the boat, including Stewart, her husband-to-be Brian Bond, and Lennon. Rescuers including Piermont and Nyack volunteer firefighters had a tough time finding the wrecked boat in the dark on the river, with emergency dispatchers relaying information and GPS coordinates as they were in touch with injured victims via cell phone.
When firefighters reached the boat, they found four survivors. Stewart's body was discovered in the river on Saturday and Lennon's body was recovered on Sunday.
The accident prompted questions about whether the construction barge involved was properly lit. On Monday, the U.S. Coast Guard said a review by the agency has determined the barges used by Tappan Zee Constructors for the bridge project have the legally-required lighting.
Nyack and Piermont volunteers are the first-responders to river-related incidents in the area of the Tappan Zee Bridge. The Rockland County Sheriff's Department has a marine unit that is based in Stony Point.
Photo credits: 
Hudson River: Dave Zornow
Piermont Marina: Bill Demarest