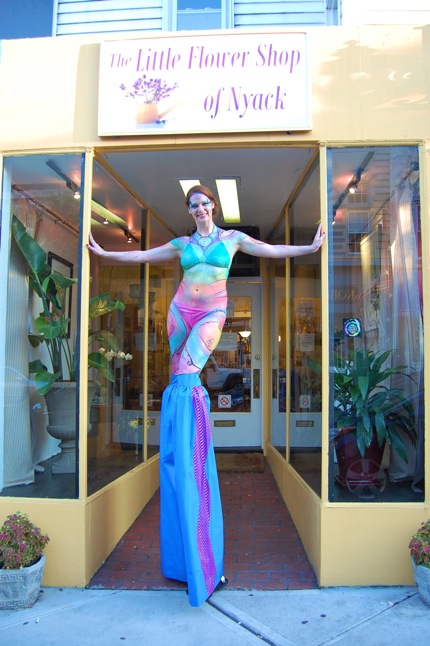 For the second First Friday in a row, downtown Nyack will be bustling with art openings, interactive "happenings,"and live music. Building on the success of their first monthy festival, where street corner poets "slammed," and a human canvas on stilts towered above pedestrians, the Nyack Art Collective has done it again.
First Friday August will include a sundown screening in the garden of the Edward Hopper House Art Center, a performance by John Moroski at the gazebo on Main Street, an outbreak of chalk art and the return of those slamming poets from Suffern and human canvases, this time in formal wear.
Here is a guide to the art that will be happening at 35 venues throughout Nyack on Friday, August 2, from 5-8p.
Nyack Art Collective Group Exhibit
A group show of all of the Nyack Art Collective members participating in First Friday will be on exhibit at the Nyack Library from 5 – 6p. The show will hang for the month of August..
Outdoor art projects 
Suffern Poetry
body and tuxedo painting
Music  at the Main Street Gazebo
Backyard Cinema at the Edward Hopper House Art Center (8 N. Broadway)
A sundown screening of Child of Giants, a documentary on the life of Dorothea Lange in the backyard of the Edward Hopper House Arts Center.
First Friday Venues Displaying Nyack Art Collective Artists
The Nyack Art Collective seeks to:
AFFIRM the importance of art & creativity in individuals & the community
CREATE a visible and recognizable unified body of local visual artists
FOSTER UNITY & INTERACTION among artists and the community
PROVIDE networking opportunities
ENCOURAGE one another's artistic pursuits and goals
SUPPORT individual and community growth & awareness thru the arts
PROMOTE the marketing and sale of our work
INSPIRE each other and the community of Nyack, as a whole
Alain's Express-Diana Suez: 88 Main St.
Burd St. Cafe-Jade Watkins: 78 Burd St.
Casa del Sol-Ray Lagstein: 104 Main St
Cafe Barcel-Ivan Pazlamatchev: 162 Main St
Chocolaterie-Louise Bryant: 6 S. B'way
Colin Holmes-Kate Faust, 13 S. B'way
Gena Lisa-Doris Shepherd Wiese: 17 N. B'way
Harry's Burritos-: 90 Main St.
Little Flower Shop-Jamie Gaviola: 95 1/2 Main St.
Lorybird-Sandy Levine:  23 N. B'way
Luminesque-Tracy Kachtick-Anders: 140 Main St.
Maria Luisa- Ellie Turk: 77 S. B'way
Night Owl, Jessica Butler, 4 S. Franklin St.
Nyack Tobacco Co-Tony Ziegler: 140 Main St.
Olive's, Dmitry Wild: 118A Main St.
P Ross-Bill Rauschenberg: 89 Main St.
RJ's-Leigh-Anne Eagerton: 81 S. B'way
Saffron-Elaine Schloss: 14 S. B'way
Sanctuary-Natalie O'Donnell: 60 S. B'way
Sign of the Times-Cass McVety : 112 Main St.
Strawberry Place-Nina Berlingeri: 72 S. B'way
Sweet Spot-Christina Assaf: 11 S. B'way
Temptations-Jamie Gaviola: 80 1/2  Main St.
Vincent's Ear-Lawrence Hutlberg: 85 S. Broadway
Exhibitions also on Display at these Venues
Art Cafe, 65 S. Bway
Gigliardi Studio, 39 Hudson Ave
Johnny Apollo: 88 Main St.
Johnny Cakes, 84 Main St.
ML Gifts & Accessories, 75 S. B'way
Pickwick Book Shop, 8 S. B'way
Pink Entourage, 7 S. B'way
Pizza Bistro, 64 S. B'way
Somos, 78 S. B'way
Sour Kraut, 118 Main St.
Starbucks, 80 Main St.
See also:
Stilt walker photo credit and body painting: Jamie Gaviola