by Brian Jennings
The July 1863 action by the federal government sparked a bloody four-day long riot in Manhattan which took hundreds of lives. In Rockland and Westchester counties, there was a fierce debate in the local newspapers. Tempers were running high everywhere as the Civil War dragged on. One hundred and fifty years ago this week, the U.S government instituted the first draft in American military history.
The editor of the Rockland County Journal speculated on whether this new law could be sustained in an editorial simply called "Conscription." A letter to the editor of the Journal dated July 20 described a drunken party of 25 men in Tappantown calling themselves "The Society for the Diffusion of Political Knowledge" drinking whiskey and calling President Lincoln a "son of a b—-h." Dr. Frank Green's History of Rockland County says there was a mass meeting planned to protest the draft for the local area which was scheduled to begin on July 20.   Luckily word reached Tarrytown that a mob was marching from the lower Westchester towns toward the draft office, so preparations were made to secure that office and remove its books and papers in advance.  Green recalls the actions of a local resident Michael Murphy who upon hearing of the forming of a mob in Westchester went to Mr. Rutherfurd's military academy in Nyack, gathered the muskets and concealed them in the cellar of William Voorhis in Upper Nyack who lived in the home just north of the Old Stone Church.
Men who were drafted could buy an exemption at a cost of $300, about $5,000 in today's money.   The towns in Rockland were each required to supply a certain number of men based on their population and in turn they all developed plans to raise money to pay for exemptions.  Many charged eligible men $25.
On a less serious note — perhaps — there was a rather stern rebuke by Nellie Gray to young ladies who flirted too much with the opposite sex.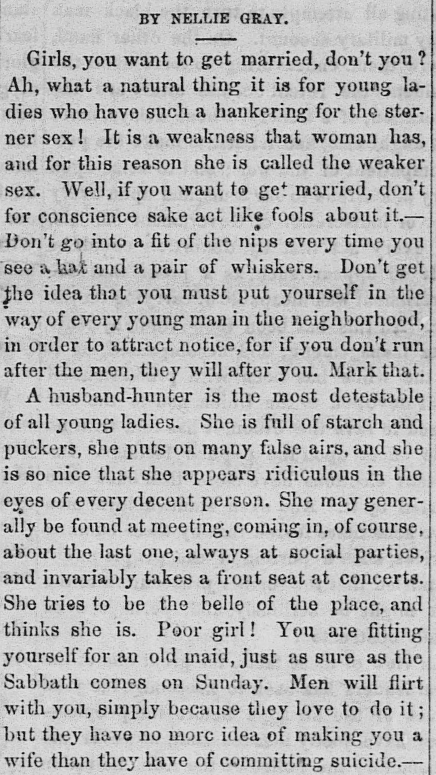 Girls, you want to get married, don't you? Ah, what a natural thing it is for young ladies who have such a hankering for the sterner sex ! It is a weakness that woman has, and for this reason she is called the weaker sex. Well, if you want to get married, don't for conscience sake act like fools about it. Don't go into a fit of the nips every time you see a pair of whiskers. Don't get the idea that you must put yourself in the way of every young man in the neighborhood, in order to attract notice, for if don't run after the men, they will after you. Mark that. A husband-hunter is the most detestable of all young ladies. She is full of starch and puckers, she puts on many false airs, and she is so nice that she appears ridiculous in the eyes of every decent person… continued
Brian Jennings is the local history librarian and librarian supervisor at the Nyack Library. This article is part of a series extracted from scanned copies of the 1850-1884 Rockland County Journal which include The Civil War and the period in which realist painter Edward Hopper lived in Nyack. They provide us with a snapshot into what life was like in Nyack and Rockland in the late 19th century.
See also: 150 Years Ago In Rockland series on NyackNewsAndViews