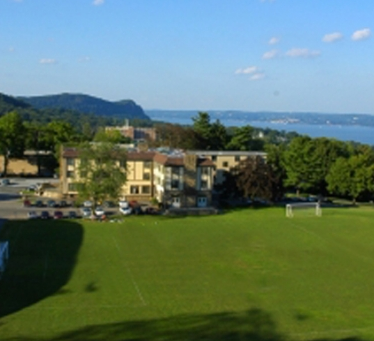 Nyack, June 4 — Classes were cancelled at Nyack College on Tuesday night and 700 students at the Nyack Middle School were evacuated earlier in the day following a gas explosion at the Sky Island Lodge of Nyack College. Seven people were injured in the blast which was strong enough to blow out windows at the building. The explosion occurred at about 11:45a.
A statement by the college said five employees and two adult students were in the building at the time of the blast. "There were injuries, but no fatalities. All individuals were taken to the hospital for examination as a precautionary measure." The college had completed its Spring semester and conducted its graduation exercises last month so the campus was relatively empty today.
Elevated gas levels were found in the manholes around the Sky Island Lodge following the blast, according to O&R.
Several people were trapped in the rubble after the explosion, according to Rockland County's Office of Fire & Emergency Services Director Gordon Wren. The New York Times reported that local fire and police officials pulled them to safety
The Sky Island Lodge houses Nyack College's School of Business and Leadership at the Christian college.
Nyack Schools Superintendent Jim Montesano sent an email to the parents of Nyack Middle School students reporting that all students had been evacuated from the middle school to the high school on the recommendation of O&R. Nyack Middle School is located adjacent to the site of the explosion.
Almost one year ago, a gas main break and a major fire closed streets near the Victoria Mews apartments in downtown Nyack at the corner of North Broadway & 1st Ave in Nyack.  The June 2012 incident occurred after O&R contractor struck a low-pressure gas main. Sparks from near by pipe grinding caused the blaze.