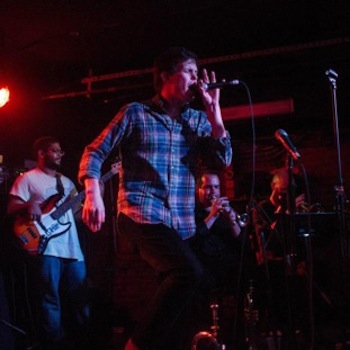 by Nate McCarthy
Nyack native Sam Oatts is one example of the inestimable and varied talent in the local music scene. As a trumpet and bass player, Sam has toured in more than 20 countries and 48 states with a wide variety of ensembles, ranging from orchestras, to Broadway shows, to rock bands. He also works as a producer, arranger, educator, and most recently, a composer.
Two years after quitting the avant-garde rock group Kiss Kiss, Sam began to write material for a solo album for his new band, Hudson Hank. At the same time he was hired to orchestral arrangements for James Levy & the Blood Red Rose, an alt-folk duo from the UK. Producing James Levy's record was Coldplay bassist Guy Berryman. Though Sam had already begun recording, self-producing, and funding his own album at Studio G in Brooklyn, Berryman expressed an interest in producing the record, and six months later, Oatts was on a flight to London."We had kind of rushed through the process due to budgetary constraints up to that point, so it was nice to lose track of the clock and get it right," Oatts said. The album, entitled Daybreak, was mastered at the world-renowned Abbey Road Studios in London, and is set to be released in August.
Hudson Hank's sound bends genres (think—Bowie drinks beer with Slowdive!). Listening to the album, one can hear all the eclectic influences Oatts brings to the table given his background as a classical, Broadway, and rock musician. Nonetheless, the album maintains a sort of consistency stylistically, characterized by a strong sense of melody underneath layers of guitars, strings, and horns, and dark orchestral arrangements.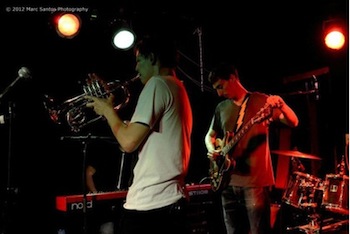 "I think our music can be defined by melodic and harmonic flow" said Oatts. "I didn't want to allow the music to be dictated by classic pop structures… I wanted the melodies and harmonies to go where it felt natural"
On the record, Oatts is featured on nearly every instrument, aside from drums and guitar, though he wrote and arranged everything. "The current material the band is working on is definitely more a collective of all our writing skills," Oatts explains. "I'm very excited to get back to the studio to showcase the talents of this band."
In just a few months of live shows, Hudson Hank has already seen success, selling out prestigious New York City venues like Joe's Pub at the Public Theater.
"Aside from the endless practice and studying it takes to be a continual viable force in the music industry, I think having patience is the toughest challenge of being a musician. You work so hard at all these projects and the pay-off sometimes takes years. But it feels good when a project finally comes to fruition; that's the feeling that keeps you going"
In August, Hudson Hank will release their much-anticipated debut record Daybreak, at the Bowery Ballroom—one of NYC's premier concert venues.
Nyack High School graduate Nate McCarthy is the lead singer/rhythm guitarist for local alternative-rock band Regret the Hour. He will be attending Hunter College in the fall.
See also: