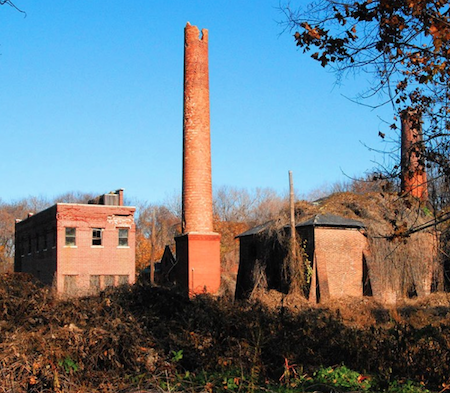 by Laurie Needell and Matthew Schlanger

South Nyack residents Matthew Schlanger and Laurie Needell will be at the Nyack Library discussing the original 3D photos and histories of North Brother Island, Typhoid Mary and the General Slocum disaster they've included in an iPad eBook app on Sat June 15 at 2p — which is coincidentally the 109th anniversary of the General Slocum fire.

Think you know everything there is to know about New York City? Think again.
Bet you didn't know there are three islands in the upper stretch of New York City's East River.
Sure, everyone's heard of Rikers Island, the site of an infamous prison few would choose to enter — a location strongly entrenched in the city's mythology of its darkest self.
But there are actually two other islands in that stretch of the East River between Rikers and the Bronx: North Brother Island and its much smaller companion, South Brother Island. There was a time that North Brother Island was as well known, and as feared, as Rikers Island.
Now largely unknown to the average New Yorker, North Brother Island is off-limits to the public and has been abandoned since the closing of Riverside Hospital in 1963. Best known to boaters and birders, North Brother Island is now part of the Harbor Heron Islands bird sanctuary. Access to the island is forbidden during the breeding season (late March to early August), and granted by permit only through the New York City Department of Parks and Recreation. New York Water Taxi has been offering "Sunset Eco-Cruises to Harbor Heron Islands" in the summer; you won't step onto North Brother, but if you bring some binoculars you can enjoy the view from the water.
The first time I sailed past North Brother Island was also the first time I heard about its history. I learned that it was ruins, that Mary Mallon (Typhoid Mary) died there, and that the General Slocum landed there in flames. It was my first sail through the East River and we were focused on getting through Hell's Gate at the flood under sail. I made a mental note to come back here. The island had a strong gravitational pull.

A few years later Benton Bainbridge approached me to take him to North Brother for an art project, Brother Islands. Benton had sailed with me before, so his original plan was to sail there on my boat along with Caleb Davison, the boat's co-owner. It was early September, an ideal time (we thought) for a sail to this historic island in the East River.

North Brother Island is currently part of the Harbor Herons bird sanctuary and access is strictly controlled by New York City's Department of Parks and Recreation. The Black-crowned Night Heron's breeding season runs from late March to early August; no one is permitted on the island from March through September. It turns out that nesting herons have an unfortunate habit of pushing their babies out of the nest if people get too close. We also learned that the island is riddled with uncovered manholes, so having guides on the island had a certain appeal. We decided it was best to hitch a ride on a motorboat. We submitted a project proposal to the Natural Resources Group and waited; some people have waited years to be granted access.

On a brisk November day in 2006 we landed at North Brother in a Parks Department boat that we boarded on Randalls Island along with the Forest Restoration Team. Due to the ruined condition of the landing site we had to go ashore a few at a time by kayak. There was so much to look at and so much to shoot. We were keenly aware of our limited time. I had taken along my new digital still camera, an old video camera and my Revere 3D camera.
Internationally exhibited artist and interactive programmer Matthew Schlanger went to the Island in November 2007, to shoot 3D images for Brother Islands a multi-media performance at Eyebeam. Following that, Matthew decided to create an iPad app/book using the photos he took there. He enlisted writer Laurie Needell to pen a few words about the island. It didn't take long for her to realize that a few words wouldn't begin to cover it. The project ballooned to seventy magnificent screens of original 3D photos and painstakingly researched histories of Riverside Hospital in its various incarnations as  a quarantine hospital, an early drug treatment center, a college dorm for World War II veterans attending college on the GI bill and an adolescent drug treatment center.
Schlanger and Needell will be presenting their work at the Nyack Library on June 15 at 2p. The history is fascinating and the 3D is cool — 3D glasses will be provided!
See also: