Route 9W in Upper Nyack is a pretty quiet place most mornings with only the occasional early morning commuter interrupting the mostly rural neighborhood. But the usual early morning music of Mother Nature took a back seat to the Theme From Rocky and Eye of The Tiger on Wednesday at 7a at the Toga Bike Shop. A crowd of about 35 friends, family, admirers and cycling enthusiasts were on hand to support Toga owner Dave Nazaroff as he kicked off a 900 mile charity bike ride from Upper Nyack to Athens, Georgia. Nazaroff plans to deliver a check to the family of two-year old Tripp Halstead, who suffered a life-threatening brain injury when a tree fell on him at his daycare center last Fall during Hurricane Sandy.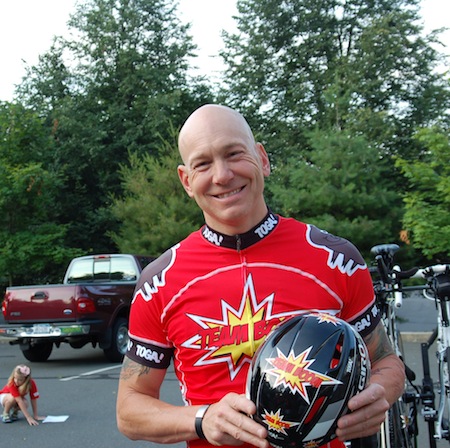 Nazaroff's wife Kaete learned about Tripp's condition from Facebook and she suggested the fundraising ride to her husband Dave, a seven time Ironman competitor. "It really hit home for Kaete and she wanted to do something special for the family," Nazaroff said. The Nazaroff's aren't the only ones who are interested in Tripp's condition despite the fact they have never met the toddler: the Tripp Halstead Updates page on Facebook has almost 760,000 "likes."
Most casual cyclists consider a 10-20 miles ride a thorough workout. Serious cyclists may train for months to ride a single "century" of 100 miles a day. In order to reach Athens in five days, Nazaroff plans to ride almost a "double century" every day. "I've never done this many miles in a day, but it's a great cause," he said. On Day 1, Nazaroff planned to cycle 172 miles and spend the night in Lancaster, PA. The Day 2 destination was New Market, Virginia, a 185 mile trip near the Shenandoah National Park. Plans are to stop in Radford, VA, Shelby, NC and Commerce, GA before arriving in Jefferson, GA not far from Athens. Fans can follow the daily progress of Nazaroff's Ride To Give online.
According to CNN, Nazaroff has raised more than $100,000 for the Halstead family with the goal of letting Tripp's mom stay home to take care of her developmentally disabled son. Nazaroff says they have received more than 1000 individual donations. Contributions are still being accepted at TogaMultisport.org.
"We are very proud of our nephew," says  Stephanie Lancaster who made the trip to Toga from Kentucky to support Nazaroff's cause. She says the whole family is helping out including their son, a Marriott employee, who has arranged for free rooms along the way.
The Nazaroff's identified with Tripp because they have a son about the same age. "When I read about Tripp he reminded me of MY blond, smiley, rambunctious 2 year old," wrote Kaete Nazaroff on Facebook. "I was so moved by his story and the honest yet inspirational updates his parents were posting."

See also: