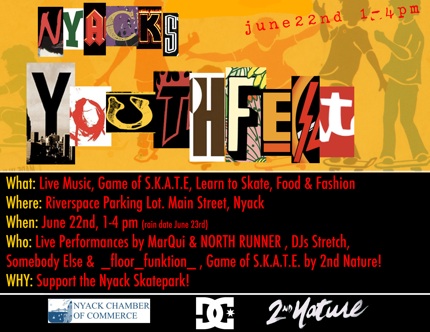 On Saturday, June 22, The Nyack Chamber of Commerce & 2nd Nature Skateshop present Nyack's 2nd Game of SKATE and Youthfest in the Riverspace Parking Lot from 1-4pm (rain date is 6/23).
The event features music by DJs Stretch, _Floor_Funktion_, Somebody Else, and live performances by Mustache Cash Stash, North Runner, and MarQui. There will be food, Roller Derby girls, fashion, records by Trash American Style, and best of all SKATEBOARDING!
2nd Nature skateshop will be running a Game of Skate skateboarding contest  (played like H.O.R.S.E) and there will also be a learn to skate area for newcomers.
All artwork from the Nyack Park Conservancy Skatepark Committee T Shirt contest will also be displayed for all to enjoy.