by Frank LoBuono
One of the world's great queries is: what came first, the chicken or the egg? Of course, it's a rhetorical question. When you think about it, the ultimate "correct answer" is not important. The debate is. So, it is when people spar with me over the state of how the news is covered by the media today.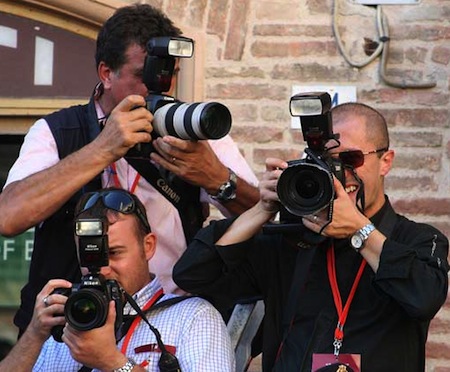 I think it fair to say that many people question the focus of news gathering, if not the very veracity of it. Certainly, I think it accurate to assert that most people are certainly dismayed by the proliferation of the frivolous, entertainment-oriented nonsense that is too often passed off as news worthy. I think that two words will be sufficient to make this point: The Kardashians. Nonsense from people who have nothing of great importance to say, or the ability to say it if they did, seem to dominate our current news cycle. As a case in point, when I signed on to my computer this morning and my home page appeared, I took notice of the "top stories" banner that dominates the top of the page (in addition to the numerous advertisements). Five of the nine stories presented as news where related to the entertainment industry. Five. More than half. The stories ranged from how celebrities stay fit at the beach, to how much money celebrities pay for their divorces. Really.
People complain about it all of the time. Still, it gets more and more prevalent. Every single news source, night or day, print or electronic, will include some type of so-called entertainment news. Newscasts, webcasts, newspapers, magazines, and all types of media are far too often dominated with news of people who are famous for just being famous – or infamous. When stories of the drunken, drug-fueled escapades of Lindsey Lohan dominate the news, we have become truly lost. I written it before but I'll write it again; we have become a society that worships celebrity.
As a photographer for a major TV news gathering agency, I have covered some of the world's most historic events. But on a weekly basis, I shoot more entertainment oriented stories than any other. By far. I often cover three Red Carpet Movie Premieres a week in NYC. They are used in the NIGHTLY entertainment news package that is available to every one of our affiliate stations around the country. Frequently, more than half my work time is spent covering entertainment stories. Whenever a focus group is organized to determine what type of stories people would like to see more of, the answer is almost always the same; ENTERTAINMENT.
So here's the rhetorical question: What comes first? Do the news gathering entities, based on their skills garnered through years of experience and study, set the tone for the type of information we are receiving? Or, are they just responding to a public demand by giving them what they crave? Well, when you think about it, it's a little of both. In my thirty years in the television business, most of it in TV News/Production,  I have come to learn that the media is a business – a unique business perhaps, but still a business. And, as such, it is greatly affected by supply and demand economics. It is unique, however, because it is also a profession that should, at least, involve something of the ethics that comprise true journalism; i.e. a search for the truth and an overwhelming desire to share it, often at great cost. I have seen this constant tug-o-war between the business end (i.e. the bean counters) and the editorial end (i.e. the producers).  Many of the most important stories are difficult and, therefore, often expensive to produce. But they MUST be told. It is a moral imperative. However, since I work in a visual medium, it is essential people actually watch what we do! Without an audience, there doesn't seem much of a point. We must keep in mind that it is the bottom line that counts the most. NO business can operate at a loss forever, not even the news business. The news, at least as I have seen it, tries to strike some type of balance between what it believes is important for the public to know and giving them simply what they crave the most.
There have been many examples of "noble" TV newscasts that, in a commercial environment, have attempted to create a broadcast that would avoid over-commercialism and the sensationalism that surrounds so-called entertainment news. The problem is they all FAILED. No one bought them (literally) and so they died. This points towards the importance of Public Broadcasting, but that's a story for another day. It emphasizes the so-called supply and demand economic philosophy that drives the information BUSINESS. At the end of the day, if people didn't buy it, they wouldn't sell it. We in TV News are no different.
So, when you think about it, all of us have to take responsibility for what we consume, including our information. Remember, your brain is an organ. Like any other organ, it needs to be nourished with the proper nutrients. A simple way to express the importance of good nutrition is garbage in, garbage out. If you don't want a garbage brain, well . . .
Frank LoBuono has lived in Nyack for over 30 years writing and covering Rockland County in print, on TV and online. He works as a cameraman and an editor for a major TV News organization. You can read his blog at Talk-Frank.blogspot.com.
 Photo Credit: BecauseMollySaidSo.com