Downtown will be bustling with art openings, interactive "happenings," live music, jugglers and more surprises from 5-8p during Nyack's 1st First Friday. This first project from the Nyack Art Collective project is supported by over 40 local businesses in the village.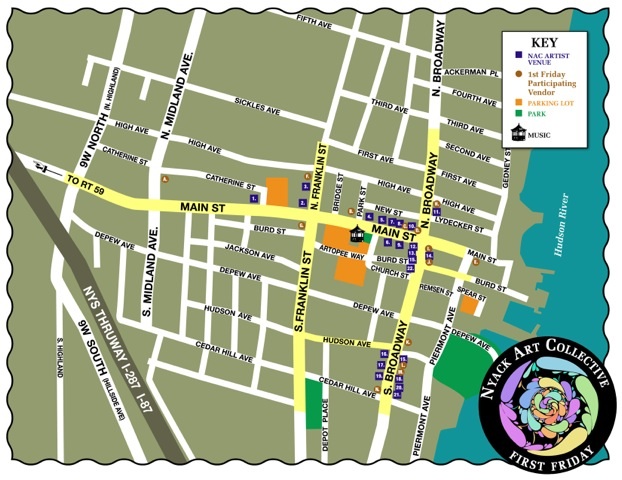 Exhibitions
A group show of all of the Nyack Art Collective members participating in First Friday will be held at Vincent's Ear, 85 South Broadway. The show will hang for the month of July, as will many of the exhibits at participating businesses.
Special Performance at  ML Gifts & Accessories
20 minute sets on the hour at 5, 6 and 7p.
Interactive art projects through0ut Downtown Nyack
Amazing Grace Circus
sketching station at Main St. gazebo
Suffern Poetry
garbage can painting at Sign of the Times
body painting at Little Flower Shop
coloring contest, face painting at Temptations, Burd St. Cafe and Maria Luisa
Music from the Rockland County Jazz and Blues Society at the Main Street Gazebo
5-6p:  Dan Barrios and Friends
6-7p:  The Fusioneers
7-8p:  Mike Holober & Friends
First Friday Venues Displaying Nyack Art Collective Artists
The Nyack Art Collective seeks to:
AFFIRM the importance of art & creativity in individuals & the community
CREATE a visible and recognizable unified body of local visual artists
FOSTER UNITY & INTERACTION among artists and the community
PROVIDE networking opportunities
ENCOURAGE one another's artistic pursuits and goals
SUPPORT individual and community growth & awareness thru the arts
PROMOTE the marketing and sale of our work
INSPIRE each other and the community of Nyack, as a whole
Casa del Sol-Ray Lagstein: 104 Main St
Cafe Barcel-Lawrence Hultberg: 162 Main St
Chocolaterie-Elaine Schloss: 6 S. B'way
Burd St. Cafe-Jessica Butler, Ed Kirkland: 78 Burd St.
Gena Lisa-Lauren Rudolph: 17 N. B'way
Harry's Burritos-Tracy Kachtick-Anders: 90 Main St.
Johnny Apollo-Lawrence Hultberg: 88 Main St.
Little Flower Shop-Jamie Gaviola: 95 1/2 Main St.
Luminesque-Cass McVety: 140 Main St.
Maria Luisa- Colleen McGowan: 77 S. B'way
Nyack Tobacco Co-Tony Ziegler: 140 Main St.
Pickwick Book Shop-Bill Batson: 8 S. B'way
P Ross-William Rauschenberg: 89 Main St.
Pizza Bistro-Tony Ziegler: 64 S. B'way
RJ's-Leigh-Anne Eagerton: 81 S. B'way
Saffron-Sandra Levine: 14 S. B'way
Sanctuary-Cynthia Shaw: 60 S. B'way
Sign of the Times-Tracy Kachtick-Anders: 112 Main St.
Strawberry Place-Hope Sperling: 72 S. B'way
Sweet Spot-Natalie O'Donnell: 11 S. B'way
Temptations-Natalie Russell: 80 1/2  Main St.
Vincent's Ear-Nyack Art Collective group show: 85 S. B'way
Exhibitions also on Display at these Venues
42 Main St
Art Café, 65 S. B'way
Colin Holmes, 13 S. B'way
Gypsy Donut, 18 N. Franklin St.
Dance with Passion, 73 S. B'way
Johnny Cakes, 84 Main St.
Lorybird, 23 N. B'way
Maura's Kitchen, 248 Main St.
ML Gifts & Accessories, 75 S. B'way
Olive's, 118A Main St.
Night Owl, 4 S. Franklin St.
Pink Entourage, 7 S. B'way
Somos, 78 S. B'way
Starbucks, 80 Main St.
See also: