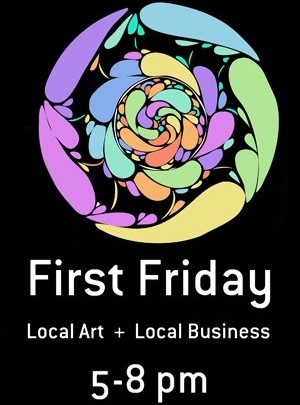 by Sandy Levine
Artists have always found a home in Nyack. Now there's a new group which artists and supporters of the arts can call their own. Their first project is on the first Friday of July and will continue on the first Friday of every month until Nyack runs out of art fans and art creators.
First Fridays is the first project from the Nyack Art Collective kicking off on July 5 when local businesses and artists pair up for art exhibitions throughout Nyack. On the First Friday of each month, downtown Nyack will be bustling with art openings in over 39 businesses, interactive "happenings", body and face painting, music, jugglers and more scattered throughout the village.  More than half of the 30 NAC members will be showing art on July 5 from 5 -8pm.
Who's in NAC?  The Nyack Art Collective includes greater Nyack area visual artists that share a belief that through unifying, sharing and supporting their artistic process greater creativity will be achieved. NAC is a member owned and managed non- profit group. Our goal is to inspire and support each other, encourage artistic pursuits, provide networking opportunities, foster unity and interaction with our community, as well as promote sales and market our artwork.
The founding meeting of the Nyack Art Collective was held on January 2, 2013 at the Nyack Library.  The founding members who attended that meeting are Tracy Kachtick-Anders, Jamie Gaviola, Cynthia Shaw, Jessica Butler, Ray Lagstein, Natalie O'Donnell, Donna Davies Timm and Leigh-Anne Eagerton.
A group show of all of the First Friday participants will be held at Vincent's Ear at 85 South Broadway.
Want to be part of this group? It's a $25 membership fee that will help your creativity, your community and the artist inside all of us. For more information contact Tracy Kachtick-Anders at Vincent's Ear.
First Friday Venues Displaying NAC Artists
Casa del Sol-Ray Lagstein
Cafe Barcel-Lawrence Hultberg
Chocolaterie-Elaine Schloss
Burd Street Cafe-Jessica Butler
Gena Lisa-Lauren Rudolph
Harry's Burritos-Tracy Kachtick-Anders
Johnny Apollo-Lawrence Hultberg
Little Flower Shop-Jamie Gaviola
Luminesque-Cass McVety
Maria Luisa- Colleen McGowan
Nyack Tobacco Co-Tony Ziegler
Pickwick Book Shop-Bill Batson
Pizza Bistro-Tony Ziegler
Rj's-Leigh-Anne Eagerton
Saffron-Sandra Levine
Sanctuary-Cynthia Shaw
Sign of the Times-Tracy Kachtick-Anders
Strawberry Place-Hope Sperling
Sweet Spot-Natalie O'Donnell
Temptations-Natalie Russell
Vincent's Ear-Nyack Art Collective group show
Nyack Businesses Support the Arts of First Friday
42 Main
Art Café
Dance w Passion
Johnny Cakes
Lorybird
Maura's kitchen
ML Gifts
Olive's
Night Owl
P Ross
Pink Entourage
Somos
Sour Kraut
Starbucks
Sweet Spot Candy Shoppe