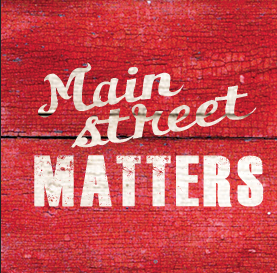 by Dana DiTrani
As the saying goes "The time is now." For Nyack Villagers, the time is now to help restore, revitalize and renew the place we call home. Benjamin Moore's Paint What Matters campaign wants to help Main Streets across America.  But Nyack needs YOUR help to do it. By simply voting — every day between now and Sun June 30 — at PaintWhatMatters.com we can ignite, beautify and preserve our village.
I write to you as a relatively new resident of this awesome enclave who very much enjoys living here.  Although Nyack is rich in history, it does not have to necessarily look old.  Walk around our small town you can still see the damage caused by Hurricane Sandy as well as the recent flooding on Main Street.
I heard of the Paint Project story in Tannersville NY, and thought this would be a great blueprint for Nyack.  In the story, an artist moved from South Africa to the run down town of Tannersville and decided to paint her home in all different colors and patterns.  She noticed many cars stopping to take pictures of her newly painted home and thought she was on to something.  She decided to ask a shop owner to paint the outside of his store a color, and even offered to do the painting.  Despite meeting with a lot of resistance, one shop owner decided to do it… and it caught on.  Not only did the fresh coat of paint change in the town, but it paid unexpected dividends when the previously closed Orpheum Theater reopened as a result.
It is difficult to start something out of nothing, but the positive energy of the Benjamin Moore Project might just make that happen. I was compelled to let people know in my own way, so I made some flyers, and put them around town.  I thought it was a great way to beautify and perhaps raise the bar.  It is easy for things to fall and be forgotten, but much harder to make things better. So why not work together in our small community and use this opportunity to be the best we can!
Visit PaintWhatMatters.com and cast your Vote For Nyack today. Voting closes on June 30th so there are only a few days left to make a difference!
Thank you. I appreciate your time.
Dana DiTrani is a resident of Nyack.