by Bill Batson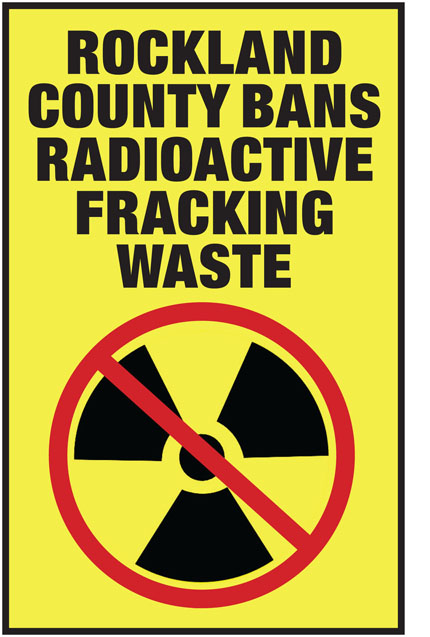 A ban on the use of waste products from the natural gas drilling operation known as fracking could become local law with the stroke of the pen from Rockland County Executive Scott Vanderhoef. The Rockland County Legislature unanimously passed the ban on Tuesday, June 4.
Introduced by County Legislature Chairwoman Harriet Cornell, the Keep Rockland County Safe from Hydro-Fracking By-Products Law prohibits the sale of all gas drilling waste, its processing at all wastewater treatment plants, and its application on all roads including applications for de-icing and dust control purposes within Rockland County.
"While New York State is contemplating allowing high volume hydraulic fracturing, it already has existing gas drilling operations with some 6500 low volume vertical hydraulic wells.  The drilling process has the same hazardous contents as does the high volume fracking—heavy metals and a variety of chemicals," said the legislation's sponsor, Cornell.
"I initiated and sponsored the local law, naming it the Keep Rockland County Safe from Hydro-Fracking By-Products Law to avoid the risks that come with applying wastewater brine on roads as a de-icer, because its composition includes chemicals, heavy metals,  extremely high salt content and potentially radioactive material found in the shale where drilling occurs. Run-off could be hazardous to our drinking water supply and to the health of our streams," she continued
A public hearing preceded the vote where citizens voiced their support of the bill and concerns about threats to their health and safety due to the toxic by-products of hydrofracking. Also present were representatives from several environmental organizations including Riverkeeper, Lower Hudson Sierra Club, Grassroots Environmental Education and Rockland Coalition Against Fracking.  "We urged the legislature to pass the resolution, thereby acting to protect our precious resources of water and soil from potential toxic contamination,"  said Rockland Coalition Against Fracking Organizer Michelle Solomon.
Rockland County joins a growing list of New York counties that have also passed legislation to protect their water supplies and the health and safety of their residentsby banning radioactive gas drilling waste. Westchester, Putnam, Nassau, Suffolk, Orange, and Ulster counties have passed similar bans.
"On June 17th, thousands of New Yorkers will be meeting in Albany to stand united against fracking and demand 100% renewable energy," Solomon said. " Governor Cuomo could make a decision any day now. We have to show our strength on the 17th," she continued.
The County Executive has not yet acted to sign or veto this legislation.
See also: Fracking Finds Fresh Foe