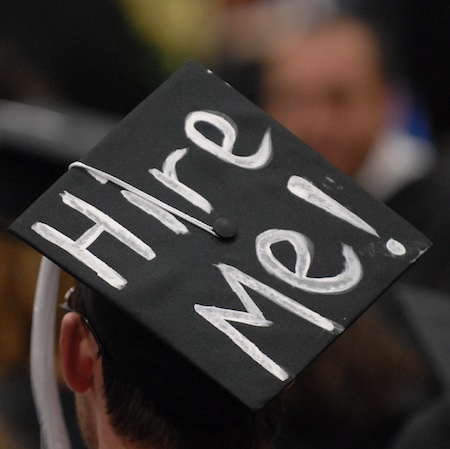 by Ashley Tedino
The "real world" can be a scary place for recent college graduates. Unfortunately, there's no user manual for what 20-somethings should do next when the graduation parties are over. Here are some obstacles recent graduates are likely to face when they start their next chapter in life:
Trying to find a job in the major that you graduated with is not as easy as it used to be. You should apply to as many jobs as you possibly can even if it is not what you want to do. Your dream job will happen when it is supposed to happen.
"Grads have to be OK with taking a job that may not have anything to do with their career track," says Tom Gimbel, the founder and CEO of LaSalle Network. "They need to be willing to accept a position outside of their skill set or desired industry… they need to be willing to start at a lower salary and invest their time to better the company. These opportunities provide chances to network and make the individuals better equipped to land the job they really want."
Recent graduates should start their job search at the Career Development Center at the college/university from which they recently graduated. The Career Center is there for current students and alumni which is beneficial. The staff there can help you with your resume and help you find jobs that interest you.
As if finding a job is not hard enough, graduates need to start paying back their student loans within six months of getting a diploma. If you do not have a full time job, you can defer some your loans depending on the loan provider. This sounds helpful but the interest on those loans will start adding up. The best thing to do in this situation would be to pay a small amount each month to help you out in the long run. Contact your loan company to explain what your job situation is so they can help you find a payment that is right for you and your budget.
Living at home with your family will help you save money but sometimes living by yourself in even more debt seems better then dealing with the stress at home. We love our family but sometimes they sound like our teachers (which we don't have any more). We already know that our number one priority is to look for a job, but our parents seem to think that all we do is sit on the couch all day and watch MTV. The thought of living in a one bedroom apartment on top of a pizzeria is sounding like paradise as the days go by. Living at home can help you save up money to pay off that student loan and save up for a place of your own — but staying put has its costs, too.
With all those difficulties being said, we still have to try and maintain the peace in our lives. This is a hard time for us graduates as well as our families but we all just have to take one day at a time. A job opportunity will come along and we will be able to afford that one bedroom apartment for $1,500 per month along with all that student debt!
Ashley Tedino is a recent graduate of Dominican College dealing with the post-grad life.
See also:
Photo Credit: BrightFutura.com