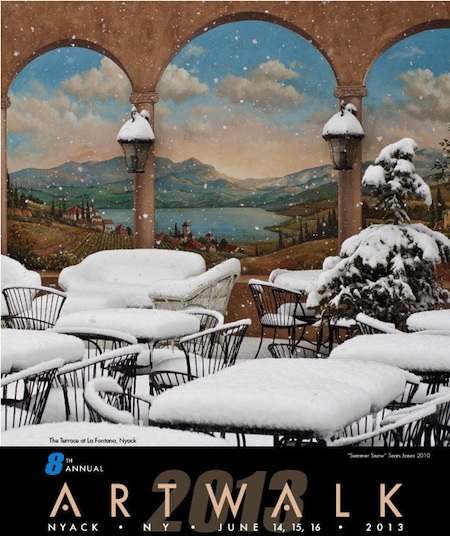 Downtown Nyack merchants turn their shops into mini art galleries this weekend for the eighth annual village Art Walk on June 14-16. Event organizers, perhaps with a nod to the exciting weather we are having lately, have chosen "MOTHER NATURE – HER BEAUTY & HER WRATH," as the theme for the 2013 event.
Twenty-two artists will display their own personal interpretation of the theme in 22 venues as well as other works they have created. "Much has happened to our lives in the past year. Some of those events have been most beautiful while others ended in catastrophes," says Art Walk producer Paulette Ross. "Mother Nature has always shown us her softer side–majestic, amazing–and her powerful side – devastating and reckless. But…all the while ever inspiring," she says.
For the first time, Art Walk features an interactive exhibit. Upper Nyack artist Bill Rauschenberg's "Shell We Art?" exhibit explores the definition, boundaries, and point of view of "what is art?" from the lawn of First Reformed Church at Broadway and Burd on Saturday at the top of the hour from 1-5p.
Parking is free on Saturday, June 15 in the lot behind Riverspace on Artopee.
The signature poster for the 2013 Art Walk was created by local photographer Sean Jones. It's called  "Summer Snow." (Let's hope not).
Art Walk Artists and Where To Find Them, Friday-Sunday
[column size="one-half"]
KENNETH BURNS, painting
VINCENT'S EAR, 85 S. Broadway
CYNTHIA SHAW, mixed media
MARIA LUISA, 77 S.Broadway
PAM GRAFSTEIN, photography
ML GIFTS & ACCESSORIES, 75 S. Broadway
CATHERINE R. GELCHINSKY, mixed media
SANCTUARY, 60 S. Broadway
ROBERT SCHEUERMAN, photography
GAGLIARDI PHOTO COLLECTION, 39 Hudson Avenue
ELLIE TURK & ROISIN BRENNAN, mixed media
NYACK LIBRARY, 59 S. Broadway
ASTRITH DEYRUP, painting
HISTORICAL SOCIETY OF THE NYACKS, Depew House, 50 Piermont Avenue
NORMA COSTA, painting
HICKORY DICKORY DOCK, 43 S. Broadway
LINDA HIGGINS, painting
NYACK WINE CELLAR, 43 S. Broadway
KATE FAUST, painting
COLIN HOLMES HOME, GARDEN, & GIFTS, 13 S. Broadway
SUZANNE ALTMAN, painting
THE SWEET SPOT CANDY SHOP, 11 S. Broadway[/column]
[column size="one-half" last="true"]
ALI PERRETZ, photography
PINK ENTOURAGE, 7 S. Broadway
KARON SHOVERS, painting
SAFFRON TRADING COMPANY, 14 S. Broadway
SUE STOTSKY, painting – Sun only
GALLERY OF METAL & STONE, 12 S. Broadway
LESLIE GREEN GUILBAULT, sculpture/pottery
CHOCOLATERIE, 6 S. Broadway
LAUREN RUDOLPH, painting
GENALISA LINGERIE, 17 N. Broadway
VALERIE KLEINER, painting
SAUNDRA MESSINGER, 38 High Avenue
Vivian Kahra, Diane Rosen, Victor Mirabelli, painting – Open til 5PM
HOPPER HOUSE, 82 N. Broadway
SEAN JONES, photography
p.ross, 89 Main Street
ROBIN LAWSON, painting
THE LITTLE FLOWER SHOP OF NYACK, 95.5
DAVID ROSENBLOOM, painting
SPICE OF INDIA, 125 Main Street
BRETT BERLAND, sculpture
FUNNY BUSINESS, 130 Main Street [/column]