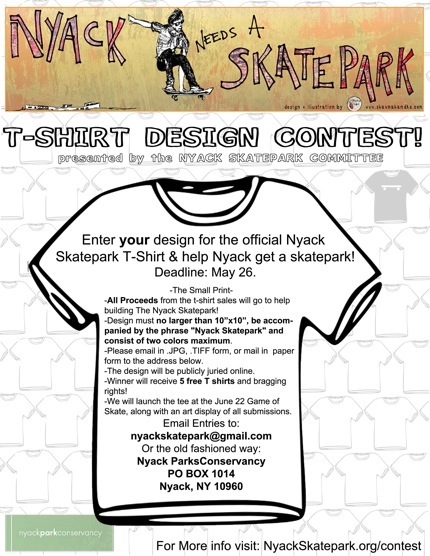 by Bill Batson
Organizers of Nyack's first skatepark are drafting local artists to their cause. Nyack-Needs-A-Skatepark, the group that recently came under the umbrella of the Nyack Parks Conservancy as the Skatepark Committee, is holding a t-shirt design competition. All proceeds from the sale of the shirt, emblazoned with the winning design, will go to support the construction of a skateboard plaza in Memorial Park.
The deadline for submissions is May 26 and the winner will be determined by an online vote. Details of the competition are available at nyackskatepark.org.
"Skateboarding and adolescence go hand in hand in the same way that skateboarding and art go together" says one of the contest organizers, Sarah Anderson. This convergence of skate culture and art will be on display in the Municipal Parking Lot on Main Street on June 22 from 1-4p at Youth Fest, an event sponsored by The Nyack Chamber of Commerce, 2nd Nature Skateshop and DC shoes.
Sk8park T-Shirt Design Contest Guidelines
Designs must be no larger than 10" x 10", be accompanied by the phrase, "Nyack Skatepark" and consist of two colors minimum.
The design will be publicly juried online.  Winners will receive 5 free t-shirts and bragging rights. All proceeds from the t-shirt will go the help building the Nyack Skatepark.
Please email in JPEG, TIFF form or mail in paper form to the address below. Email entries to: nyackskatepark@gmail.com
Or the old fashion way: Nyack Parks Conservancy PO Box 1014, Nyack NY 10960
Deadline for submissions in May 26 .
The winning Tee-Shirt design will be launched at Youth Fest and all of the submissions will be on display.  The Youth Fest will also include:
Live music by DJs Stretch,

 _floor_funktion_, Somebody Else

and others to be announced,
Game of S.K.A.T.E (played like the basket ball game H.O.R.S.E)
Skateboard lessons (provided by 2nd Nature Skateshop)
Prizes
Raffles
Food
Fashion
The Skatepark Committee will have a fundraising table with at Youth Fest. All participating vendors are making donations to the Nyack Skatepark.