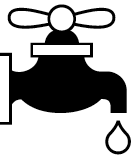 It's Spring cleaning for Nyack's Water Department. Which means if you live in West, Central, South and the Village of Nyack your water may not look so clean for a few days this week.
The water department will conduct its annual water main flushing this week. Here's the schedule and the day by day "downloads."
West Nyack and Central Nyack on April 29 – May 2
Nyack College area May 2-3
Flushing will take place between 9p and 6a.  As a result of the flushing, water may be temporarily discolored and you may also experience a temporary reduction in water pressure.
Source: Nyack-NY.gov
See also: Nyack Sketch Log: Nyack Water Department, 2/28/2012