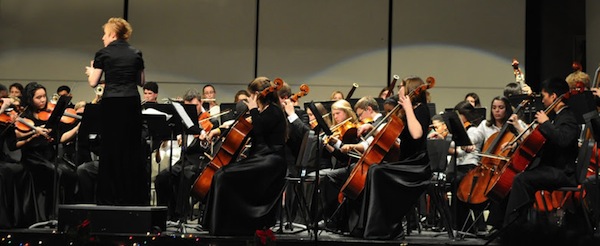 by Nyack Schools' MusicWorks
What do the Theater an der Wien in Vienna and the Auditorium at Nyack High School have in common? Both are lucky enough to have held performances of Beethoven's Choral Fantasy. In Vienna, it was performed in December 1808.  In 2013, the piece will be performed on Wednesday night May 29 at Nyack High School at 7:30p.
NHS Graduate Plays Carnegie Room on Sat
Rob Keiser played the piano and Little League in Nyack before graduating from NHS, getting a Bachelors in Music in piano performance from Ithaca College and an MA in piano performance form Hunter College. In 2008, he won the Mary Hayes North Piano Competition Award and a 2012 CUNY concerto competition for his performance of Liszt's Totentanz. Keiser has been the musical director in several off-Broadway shows and continues to partner with many vocalists and instrumentalists as a collaborative pianist.
On Sat June 1 at 7:30p, Rob Keiser will play Bach and Beethoven in the Carnegie-Farian Room of The Nyack Library.
The dedicated 140 students from the music department at Nyack High School that make up the Symphony Orchestra and Chorus have been rehearsing tirelessly over the past few weeks. The ambitious piece they are aiming to perform requires the band, chorus, and string orchestra to come together without precedent — with the one exception of having executed this monumental feat last year when they left the audience  breathless with their awe-inspiring rendition of Carl Orff's Carmina Burana.
Please join us for the iconic and beautiful piece — Beethoven's Choral Fantasy for Symphony, Chorus and Piano. Guest piano soloist will be NHS Alumnus Rob Keiser ('04) who is currently finishing his doctorate in Piano Performance. The final concert of the school year will be this Wednesday at 7:30p. It is free and open to the public. In addition to the grand finale by the Symphony Orchestra, the evening features the NHS Percussion Ensemble, Mixed Chorus, Concert Band, and the String Orchestra. This promises to be an incredibly exciting event!
It is worth noting some of the recent accomplishments of these musicians: the Chamber and String Orchestras just finished their grand performance last week at the 9th Annual Jimerson String Festival. This amazing concert featured 300+ string students from 4th through 12th grade, performing together. The Band and Choral students have similar major performances – competing at the Heritage Festival in NYC. The Advanced Chorus came home with a gold and the Jazz Ensemble received silver. The Chamber Orchestra competed in March at the Young Prague Festival, receiving the bronze, and in February they competed at ASTA, placing 3rd in the nation and receiving a superior rating.