by Nick Del Pizzo
Nyack's Memorial Day weekend 2013 will be a little different in Nyack this year! The village will once again hold a Memorial Day Parade on Monday, May 27 at 11:00 AM. This year, however, following the closing ceremonies at Nyack's Memorial Park, there will be free refreshment provided to the public. The Village of Nyack, Nyack American Legion Post 310, Upper Nyack Veterans of Foreign Wars Post 9215 and the Nyack Fire Department are all volunteering to make this event possible. There will be music, children's entertainment and of course, hot dogs and hamburgers for the public to enjoy on the banks of the Hudson River in Nyack's beautiful Memorial Park as the community recognizes and remembers the ultimate sacrifice of our servicemen and women who gave all in defense of our way of life.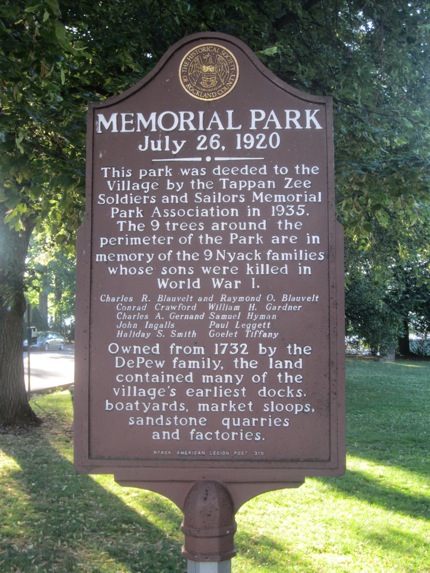 Nyack's Memorial Park is a most fitting place to hold such a service as the Park was created as a living Memorial to the Nyack men killed in action in World War I.
The Grand Marshall of the 2013 Parade is World War II US Army veteran and South Nyack Resident Kelsy Graham. Our speaker is Lis Gessel, US Army Iraqi Veteran & Commander of the Willis Polhemus VFW Post 9215.
As always on Saturday of Memorial Day weekend, veterans will gather at Oak Hill Cemetery Nyack at 9 AM to place an American Flag on the graves of the more than eight hundred fifty (850) veterans are buried there. The arduous task of walking the hillside cemetery to place the flags will be a little easier for the veterans this year thanks to local veteran Guy Gebbia, who came up with the idea to place a permanent US Veteran marker at the gravesite of every veteran. The marker also serves as a flag holder, so the flag can quickly and easily be placed in the holder of the now easily identified veteran's grave.
The more than $5,000 cost of the grave markers was borne by American Legion Post 310 and Veterans of Foreign Wars Post 9215. Anyone wishing to make a tax deductible donation to be used toward offsetting the cost of the grave markers should send a check to the American Legion at PO Box 302, Nyack NY 10960 or VFW Post 9215 at 250 Birchwood Avenue, Upper Nyack NY 10960.
Also on Memorial Day, the Veterans of Foreign Wars Post will conduct their annual Memorial Service at the Soldiers and Sailors Monument at Oak Hill Cemetery at 9 AM. The public is invited to attend this very moving service.
Photo: Nyack Memorial Day Parade, 2010. Credit: Roger S. Cohen