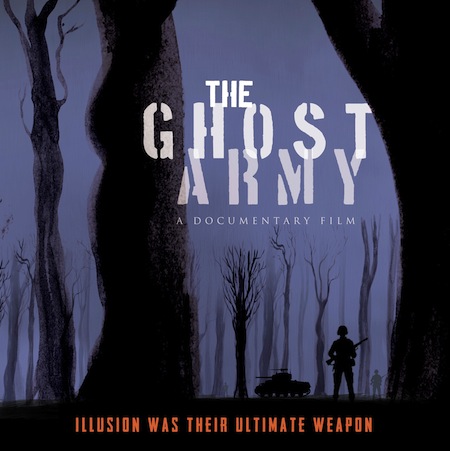 by Liz Sayles
"We had no real weapons. Yes, we were scared!"
This quote sums up the emotions of many of the soldiers in this PBS film chronicling the 23 HQ Special Troops, aka the Ghost Army, a unique WWII camouflage battalion loaded with artists. They were sent to war with dummy tanks, fake artillery, a massive collection of sound effects, and a few tricks up their sleeves.  But many also brought along their sketch books.
One of the last great stories of WWII is finally on the big screen! There will be a special screening of the PBS film, The Ghost Army, Memorial Day, Monday, May 27  from  5-7p at The Nyack Center, 58 Depew Ave (corner of S. Broadway & Depew).
Following the film there will be a Q&A with the film's director,  Rick Beyer, and exhibit co-curator, Liz Sayles. The screening, sponsored by Rivertown Film, is presented in conjunction with the Ghost Army art exhibit at the Edward Hopper House Art Center in honor of our veterans on Memorial Day.
Tickets are $10 — order at  http://ghostarmynyack.brownpapertickets.com.

In the summer of 1944, an unusual group of G.I.s landed in France. Their job was to create a traveling road show of deception on the battlefields of Europe. From Normandy to the Rhine, the 1100 men of the 23rd Headquarters Special Troops, known as the Ghost Army, conjured up phony convoys and make-believe divisions to fool the enemy about the strength and location of American units.
And that was just the beginning!
Many of these men were young artists recruited from art schools. Some would go on to become famous, including fashion designer Bill Blass, painter Ellsworth Kelly and photographer Art Kane. In their spare time, they painted and sketched their way across Europe, creating a unique and moving visual record of the war.
"To be in the middle of this adventure, with the world at war, I just had to put it down."  – Arthur Shilstone, Ghost Army veteran
An exhibit of original artwork by many of these soldiers is on display through June 9, 2013 at the Edward Hopper House Art Center , 82 North Broadway, Nyack, NY
Catch the exhibit before the show!