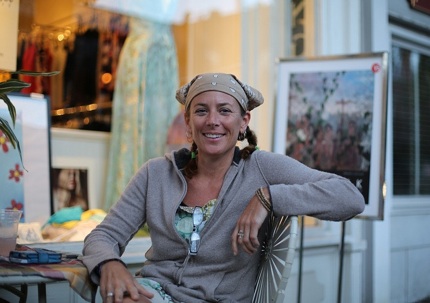 For over a century, our region has been the home of extraordinary artists from the major disciplines such as performance (Helen Hayes), visual arts (Edward Hopper), literature (Carson McCullers), and music (Kurt Weill). Local Arts Index highlights the work of individuals who continue our community's rich creative legacy.
How did you become an artist?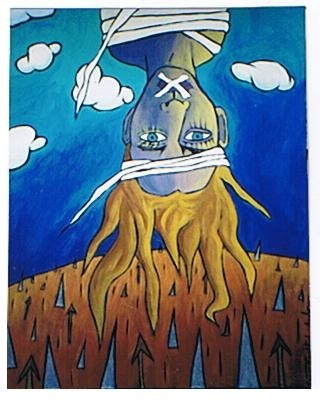 I always wanted to be an artist. I am not sure where it came from, as my parents are not artistically inclined, nor was there any encouragement or promotion of the arts growing up in Seabrook, Texas. I do have some artistically-inclined folks in my background. My uncle Johnny was famous for his Beer Can House in Houston, and I have a  furniture maker and piano restorer for a great grandfather. My brother Keith is a writer, so something must have been passed down from somewhere.
Next to my desk, I have an essay I wrote in 3rd grade or so and it says that I wanted to be an artist when I grew up.  Apparently, I imagined men taking my paintings on ships around the world. It shows a really bad sketch of a person with coins and $1 bills falling all around and says, "Famous Artist".  Funny that there were no $100 bills in the image!  Maybe I should have aimed higher.  It was not until I was a junior in college that I decided on a major (sculpture) and allowed myself to accept creating art as a worthy way to live and play.
What kind of art do you make?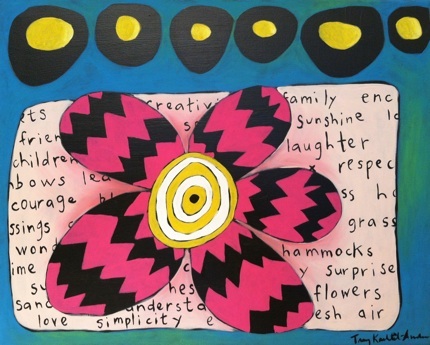 I am currently involved in the arts in a couple of ways. I own Vincent's Ear, Nyack's only arts and crafts supply store.  I love nothing more than when someone comes in and they tell me how they wish they were artistic but aren't, and I am able to introduce them to a simple craft, like dyeing silk scarves or making a beaded bracelet.  I also love the kids who come in to make art.  Kids are easy; they are all about the process as opposed to adults, who are fixated on the end product.
What is your muse? 
Things that inspire me are the surreal colors of a bug, ironies of all kinds, the earth and all living things and our connection to those things, shivers that run up my spine after a kiss, and social causes.  You would think I would say my children are my inspiration, as I have seven of them, but they don't work their way into my art too often, unless it is something super scary like my son Wyatt's first open heart surgery.
What's Next?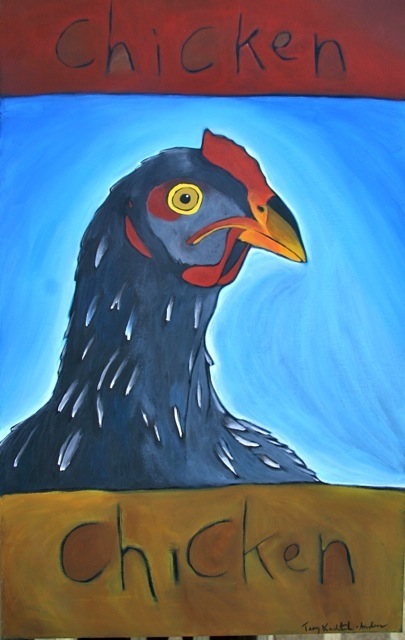 Recently, I joined with other local artists to start the Nyack Art Collective. We came together to inspire each other and to bring more art to the Village of Nyack.  Our first big project is First Fridays. We are encouraging local businesses to exhibit artwork on a monthly basis, and each First Friday of the month, they will be open from 5-8pm for artists' receptions.  Residents and visitors will be drawn through the village, walking from store to bar to restaurant to see some great art. First Fridays will kick off in July.
Personally, I will be exhibiting in July at  Sign of the Times at 112 Main Street in Nyack. The exhibit features what I call my "happy paintings". These are bright and cheerful, not too serious, and full of happy slogans. My typical work is a bit darker and I am not sure what New Yorkers think of it, so I started these new ones to lighten the mood.
To see more visit paintings by Tracy.
Local Arts Index is sponsored by Maria Luisa, 77 South Broadway and ML Gifts & Accessories, 75 South Broadway, Nyack, NY