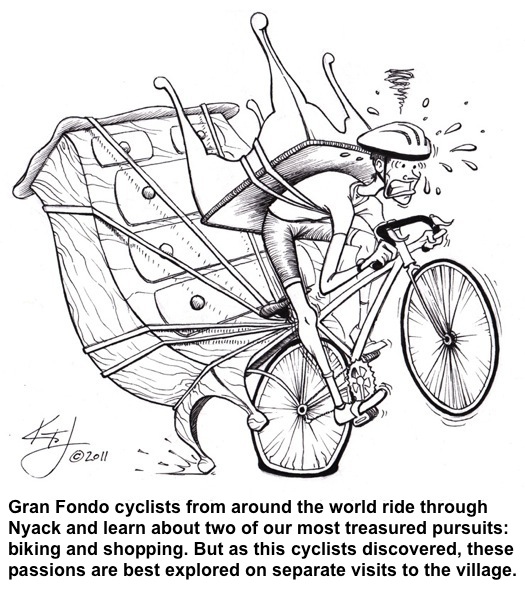 Nyack, May 18 — If you add up all of the weekend numbers, Nyack should set another 30,000 or so seats at the table this weekend with a Saturday afternoon parade, a Sunday world class bike event and the second Street Fair of 2013.
Consider these Nyack weeekend numbers: 7000, 70, 105, 8000 and 25000. According to organizers of the third annual Gran Fondo New York, about 7,000 cyclists from 70 countries will ride through Nyack between 7:30 and 9:30a Sunday morning along a 105 mile route with an 8000 foot vertical climb from the GWB to Bear Mountain to Weehawken, NJ (location of the Lincoln Tunnel).
Local Riders Share The Road With World Class Cyclists
About a dozen members of the Rockland Bike Club will be toughing out the Gran Fondo, including, Steve Kunis, 66, from New City. "The most difficult and challenging section of the course for me will be from Stony Point to Pomona where there are lots of hills," says Kunis. "If I make that I feel confident I can finish the race." Kunis says he's been riding about 100 miles a week over the last several months to train for the Gran Fondo. "I'm quite excited to see how well my 66 year old body will hold up!" he says.
The route through Nyack follows the Hudson River going North: Piermont Ave, right on Main Street, left on Gedney St, left on 4th Ave and right on North Broadway.
The 25,000 is the annual estimate of people who will attend Sunday's Street Fair in Nyack between 10a and 5p. Much like the fairy tale of Al Gore inventing the Internet, no one really knows where the 25,000 number came from but it been handed down through generations of Nyack boosters. Suffice to say, there will be a lot of people visiting lots of vendors under partly cloudy skies and 67 degree temperatures. The revised forecast for Sunday is less optimistic than originally expected: at 1030a it was raining in Nyack with a 60% chance of fairer skies by this afternoon.
The weekend kicks off with Nyack's 5th annual African American Day on Sat at 2p off with a parade followed by a multicultural festival in Memorial Park on the Hudson River. Marchers include the famous East Ramapo Marching Band, the Nyack Plaza Kool Kids, Rockland Lodge 424, Ryders Unlimited Motorcycle Club, Motherland Rhythms & Dance, as well as the Nyack Fire Department. Music and entertainment will be provided by WBLS radio.
Illustration:  "Welcome Gran Fondo-nauts" ©2013 Kipp Jarden