Rockland County Exec Candidates Opine On Early Voting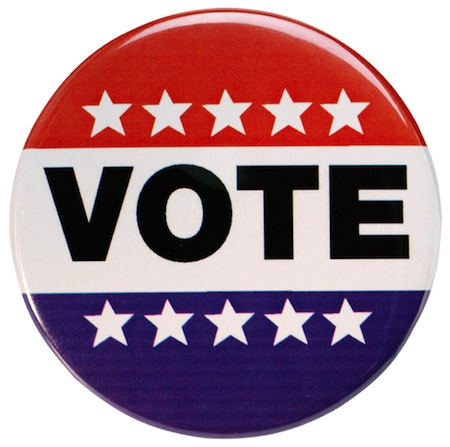 by Dave Zornow
Updated 1045a — The NYS Assembly took a small step forward on April 30 to make New York as liberal as Florida to let citizens exercise the most cherished right in a democracy. The state senate however, is less inclined to take up a bill that would allow early voting 15 days before a general election and eight days before a primary.
Assemblywoman Ellen Jaffee (D – Suffern), who voted in favor of the measure, says it's a boon to democracy. Ed Day, the Republican candidate for Rockland County Executive says we can't afford it.
"I supported this legislation because it will strengthen the state's electoral process," says Jaffee. "By reducing barriers, this bill encourages greater voter participation, expands voting access for all New Yorkers, especially our working people and seniors, and makes our democracy more representative." An analysis of the 2012 election results by the Bipartisan Policy Center shows that New York's 46 percent voter turnout was one of the lowest in the nation. "Voting is a fundamental right in our democracy. It's time for New York to join other states around the nation that already allow early voting."
"This is not a debate about the merits of early voting — that is not the issue," says Rockland County Legislator and County Executive Candidate Ed Day.  "The issue here is a failure of certain state representatives doing the hard work to make a budget work just like all of their constituents must do with their own budgets." Days says that early voting will be another unfunded mandate which will add $1.5 million in costs to the county to keep five polling places open prior to primaries and election day. "The average person cannot pop out an idea and then ask their next-door neighbor to pay for it. "State legislators should identify efficiencies that will fund their legislation instead of dumping the costs on local taxpayers." Day says he's disappointed in both the county and state legislature for not taking the opportunity to do something about state mandates instead of just talking them. "Why didn't the NYS Assembly look for efficiencies in the state board of elections to fund this initiative?" Day says the preliminary estimate to implement early voting in Rockland County would just about equal all of the tax increase permitted under the state's 2% property tax cap.
Although they disagree on how New York should implement early voting, both Jaffee and Day agree that Rockland shouldn't bear all of the costs for this initiative. "I recognize  there are concerns about the cost to the municipalities," says Jaffee, who says she has committed to helping communities pay for early voting. "I will continue to be a vocal advocate for financial assistance and recommend that state funding be included in the final legislation."
"As early voting helps the Democratic process, it isn't a question of the cost," says Stephen M. Papas, campaign manager for Rockland County Executive candidate David Fried. Although Papas acknowledges Day's concern about unfunded state mandates, he says it's worth it.  "In Rockland's case there is already a financial crisis, so we will have the unfortunate task of finding funds to implement early voting in Rockland."
NYS Attorney General Eric Schneiderman says New York should join the 32 states and Washington, DC that allow early voting.  "[It] will reduce barriers to participation that particularly impact working people, and ensure that all New Yorkers have an opportunity to participate in our democratic process," he says.  The NYS AG cites a Census Bureau statistic that one in three registered voters didn't cast a ballot on election day because they were too busy, had a work or school conflict, an illness, disability or family emergency.
Florida — as red a state as New York is blue — allows early voting ten days before an election ending the third day before any state or federal election.  A study of the 2012 presidential election in Florida found that it's not just a question of color, too. An MIT Political Science Department paper, Early Voting in Florida, which looked at the impact of the Sunshine State's shortened 2012 early voting schedule, found that it impacted blacks much more than whites. "The inconvenience visited on early voters in Florida fell specifically hard on African American of both parties…the effect of the early voting changes was to inconvenience African Americans specifically," says study authors Paul Gronke and Charles Stewart III.
"We need more participation in our local elections if we are going to change Rockland's government and put taxpayers first again.  Early voting will help do that," says Cristobal Slobodzian, campaign manager for Rockland County Executive Candidate Dagan Lacorte. "In the 2011 Rockland Democratic Primary only 23% of eligible voters showed up.  In the 2011 November election, only 34% voted."
"Early voting would encourage more people to vote and more people to participate in our democracy," says Rockland County Legislator Ilan Schoenberger, who is also running to be Rockland's next county executive. "It would be appropriate for the state to bear this cost since early voting benefits everybody in New York. In a democracy many costs and expenses are borne by the government in protecting our freedom." Schoenberger says he supports early voting and would support the proposed law if Albany pick up the tab instead of New City.
See also: