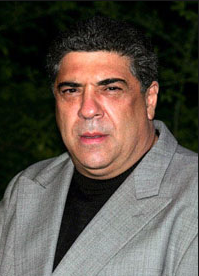 Vincent Pastore, who stole scenes during the first two seasons of the Sopranos as Salvatore "Big Pussy" Bonpensiero is premiering his play Wild Children at Nyack's Village Theatre on April 12th.  Pastore flexes his playwrighting muscle in the drama set in a Westchester bar filled with wise guys, blues singers, drug dealers and strippers.
Two of the stars of Wild Children include Soprano alums including Al Sapienza, who played Mikey Palmice and Anthony J. Ribustello, who played Dante Greco on the HBO drama.  They share the stage with Rocco Parente (Boardwalk Empire) and Peter Evangelista (The Rascals, Once Upon a Dream), Dominic Marcus (Thomas Crowne Affair) and Warren Bub.  Local actors Steve Zarro, Dana Duff, Wes Laga, Jonathan Baldwin, Ted Odell, Shana Lin, Leigh Pupps, Vincent Cueva and Joe DeSpirito round out the cast.
A special musical guest will be  Sam Waymon. Recording artist and band leader Waymon is the brother of famed songstress Nina Simone and was recently honored by the Rivertown Film Society.
The production is directed by Nyack Village Theatre's Richard Quinn, produced by local actor/filmmaker Paul Borghese and co-produced by Brooke Malloy, co-founder of the Antics Roadshow. Pastore and Paul Borghese (HBO's 61*, Malavita), are teaming up again after the successful sold out run of their Off-Broadway production of  Louis LaRusso's Tony Award Nominated "Lamppost Reunion."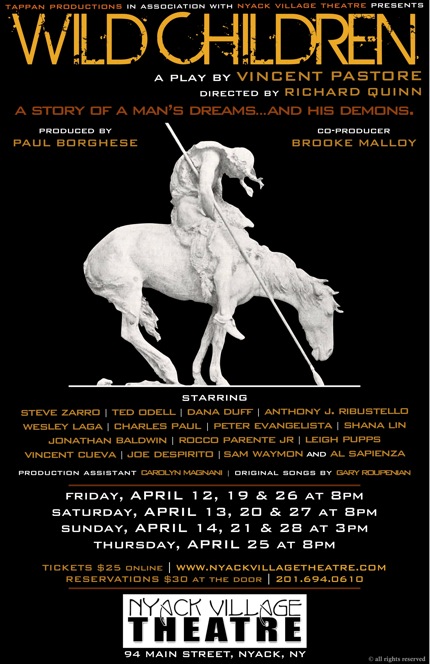 Pastore claims that Wild Children is not autobiographical.  Despite that disclaimer watering holes in Westchester have played a major role in the actor's life.  Crazy Horse,  the New Rochelle, New York bar where Wild Children is set is where Pastore was discovered by Matt and Kevin Dillon. Pastore is currently the co-owner of New Rochelle's Montauk Bar.
"I love writing, but acting pays the bills" Pastore said describing his future plans.  "I'm working with Robert Funaro on a new play by Louis. LaRusso in New Jersey.  I will co-produce and act." Pastore said.
Tickets for several dates have been sold out.  Tickets are still available for the following dates: April 19-20, 25-27 at 8pm and April 14, 28 at 3p. Tickets are $25 at nyackvillagetheatre.com or $30 at the door with reservations suggested (201-694-0610).