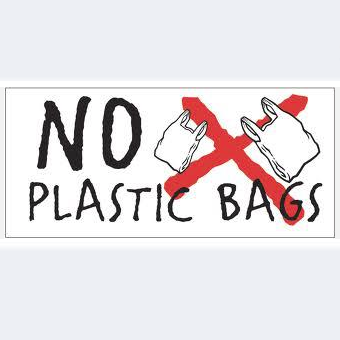 by Maria Whittingham
Isn't it time to stop using plastic bags once and then throwing them away? In fact, do we really need to use them at all? Most plastic bags are used once and then discarded – yes, really! I'm all for reusing the bags that we have for as long as possible and disposing of them responsibly, through recycling or re-purposing.
Plastic bags are littering our waterways, strangling wildlife and increasing our demand for oil. Did you know plastic bags are made from ethylene, a by-product of natural gas or from ethylene created from naphtha, a by-product of petroleum?
When I've shopped for groceries lately, I've noticed so many more people are bringing their own reusable bags, and many markets sell or give away inexpensive bags to encourage customers to use them. When I first started to try and re-use my bags, I had a hard time remembering to bring them into the store. Sometimes I still forget and have to run back to my car for them. Some supermarkets are posting signs reminding shoppers to bring the bags in from the car.
Here's a smart shopping tip: As soon as you have unloaded your groceries, return the emptied bags to the car. And if you are able to walk to the market, reducing your carbon footprint even further, remember to keep your reusable market bags close to your entry and exit door so you'll always remember to take some with you.
I try to always keep a bag with me in my purse so that when I'm making an unexpected pick-up or purchase I won't need a new bag. There have been times when I head into my village for a quick run to the store and I've had to balance my purchases in a pyramid-like stack simply because I forgot to replace my extra bag and just don't want to waste another. Many reusable bags are lightweight and often fold up so they take up very little room.
One of my pet peeves is that the clerks at many stores don't ask customers whether they need a bag for their purchases before giving them one. I believe this simple step, which some stores have adopted, would greatly reduce the number of bags that need to be produced and are later added to landfills or just blow away to become litter. After all, when you buy one book at a bookstore or a pack of gum at a drugstore, do you really need a bag to carry it?
We've made it a practice in my retail-boutique business to have all my team members ask "Did you bring your own bag today?" If the answer is no, we will then ask "Will you need a bag today?" Although we don't use plastic bags, we understand that any additional bags and extra packing is not always what the customer wants. It is just assumed, becoming the normal way of retail operations. We also give a tote bag rebate and cash back for customers who bring their own bag.
We want to change the norm by encouraging our customers to forego the bag for some items and to bring a bag for the purchases that will require a bag. We will not deny a bag to those who want one, and we will continue to gift-wrap beautifully, though with a conscience.
If you agree with me about the need to reduce our disposable-bag consumption, please join me to "Say No to the Bag." Visit SAY NO TO THE BAG on Facebook and share your pledge comment with others. We also want to hear how you plan to make a difference in reducing your use of disposable bags.
This can be a fun and creative endeavor, and we look forward to your joining us in this initiative. And go ahead, share it near and far, together we will create the CHANGE.
Maria Whittingham is owner of Maria Luisa Boutique and ML Gifts and Accessories in Nyack, NY.