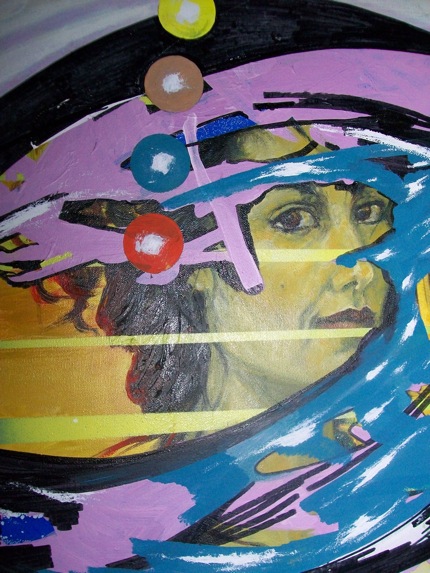 For over a century, our region has been the home of extraordinary artists from the major disciplines such as performance (Helen Hayes), visual arts (Edward Hopper), literature (Carson McCullers), and music (Kurt Weill). Local Arts Index highlights the work of artists who continue our community's rich creative legacy.
Melanie Rodriguez was educated in the public schools of the East Ramapo District. She earned her Bachelors of Liberal Arts at Columbia University, with a concentration in Fine Arts. She was the first recipient of the Elizabeth A. Sackler Museum Educational Trust to study at the Art Centers International in Florence, Italy earning her Post Baccalaureate in Fine Arts.
With the dedicated support of other fine artists from our community, she created a one-to -one mentored painting program for The Edward Hopper House Art Center and the Rockland YMCA. She has continued mentoring with the YMCA, both with painting and jewelry making programs. These collaborative paintings have lead to a large permanent collection on display at the YMCA, and two other exhibitions at Barnes & Noble and The Nyack Public Library.
What kind of art do you make?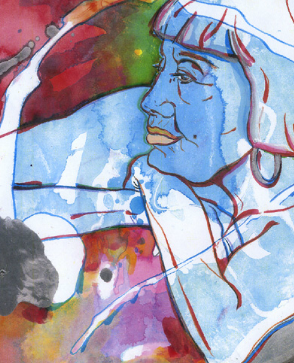 My process evolved while I was substitute teaching in NYC Public Schools. I wanted to help young artists to be more open to abstract works.
I would start by applying kitchen supplies: coffee, tea, milk, inks, berries, sugar, different honeys and kinds of salt on to paper. After drying them thoroughly, slowly images would reveal themselves to me each evening in drawing sessions after work.  I "chiseled out" forms with my pen, creating flat sculptures and landscapes.
My process is reminiscent of Edward Degas' monotype prints done in the later part of his life while he suffered with Alzheimer's. I had always loved Degas' theatre drawings. Dega discovered how to capture action by placing figures on abstract backgrounds he prepared before attending performances. This suspension of space and time became my metaphor for interpreting life and its beauty.
What is your muse?

Anyone or thing that reminds me of God's beauty; each local artist I have drawn or worked with in some way; my very talented parents, relatives and friends of mine; nature; my dog.
My background in dance has led to the need for my line art to create movement; digital printing allows me to maintain the fragility of my abstract creations while increasing their power through scale.
What's Next?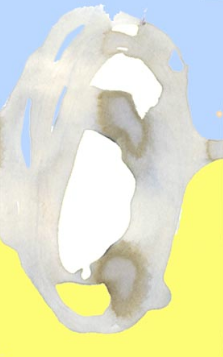 I recently participated in a mentoring program with a group of continuing education students at BOCES.  The project was sponsored by the Rockland Welcoming Committee and raised money for student scholarships.
There will be an exhibit in August at Vincent's Ear Art Supply Store in Nyack of the mentors and students work.
Learn more at melanierodriguez.biz
Local Arts Index in sponsored by Maria Luisa, 77 South Broadway and ML Gifts & Accessories 75 South Broadway, Nyack, NY