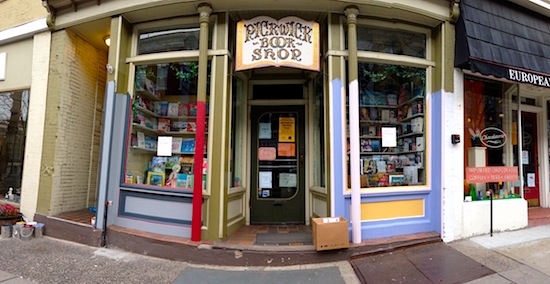 Nyack's Pickwick Bookshop has distributed over 250,000 black and white bookmarks with the image of its store front. Now owner Jack Dunnigan wants to add a splash of color to its façade — and he wants your help calling the hue.
Check out Pickwick's two different color schemes and Vote For The Color of Nyack — that is, the color combination which you think best suits the storefront, the street and the community.
On the left is a basic gray theme. It's conservative — or perhaps suggests something more executive in nature. Or maybe it reminds you of the distinctive grays of clouds hanging over the Hudson during an approaching storm. Breathtaking, thought provoking, impactful.
The colors on the right include a bright yellow set off by a distinct shade of blue leaning tinged with a touch of purple. Does it remind you of an early sunrise or a late sunset? Soothing and hopeful, suggestive of a new beginning or a happy ending?
Let Jack know whatchathink by leaving a comment below, posting your thoughts on Pickwick's Facebook page or writing him via email.
See also: Nyack Sketch Log: Pickwick Bookshop, 12/20/2011