Shotgun Wedding Between Gov and Gun Lobby To Pay for New TZB
NRA To Buy Naming Rights For New Tappan Zee Bridge
Nyack, April 1 — Governor Cuomo's lingering problem about how to finance a new Tappan Zee Bridge has now been solved. The National Rifle Association will spend $3.2 billion to purchase the naming rights for the new TZB which will replace the 57 year old bridge spanning the Hudson River. NRA Exec VP Wayne LaPierre said it only made sense for the NRA to make a stand on financing triple billion dollar public works project. "Every time the governor says 'gun control' it's been a boom for the firearms manufacturers. Wait — did I say boom? I think I meant to say 'boon.' Whatever!" LaPierre says that the NRA should be able to find most of the funding it needs for the bridge under the seat cushions in the reception area of its DC offices.
Still to be decided is what to name the new bridge. Some of the nominations reportedly being considered are "Bridge Over Troubled Waters" and "Born To Gun," a reference to the NYS Thruway's connection to Bruce Springsteen's home state.
A Tunnel Runs Through It
A tunnel will come to the Tappan Zee crossing after all, though not the South Nyack-Tarrytown trans-Hudson route long sought by anti-bridge proponents. An underground highway will replace the paved Thruway from the Palisades Center mall in West Nyack to the foot of the soon-to-be-built bridge at South Nyack.
Gov. Andrew Cuomo says the tunnel makes economical environmental sense since sale nearly four miles of land now occupied by the Thruway approach in Rockland — for mixed development as well as parks and a returned downtown at South Nyack — would more than pay for the estimated $1 billion tunnel cost. "In the 'new New York' magical things can happen," said the governor, adding "but like most of what gets decided in Albany, it will be underground and hidden from plain sight."
Nyack Parking Authority Uses Drones To Enforce 11-6 Parking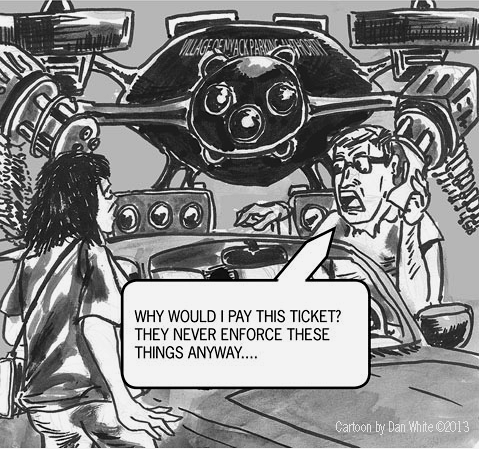 Rand Paul is filibustering about it, Mike Bloomberg is predicting it and the Taliban is hiding from it. But the Nyack Parking Authority is going where no public agency has dared to go before using pilotless drones to enforce the village's 11a-6p and 11p-6a parking regulations.
"Infrared technology takes night time parking enforcement to a whole new level," said NPA President Paysome Tickets. "Also, these targeted ticketings can really cut down repeat offenders," he said.
Fish (for Data) Or Cut Bait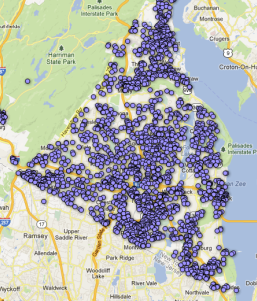 Following up on its much-criticized story "The Gun Owner Next Door," the Journal News has published the names and addresses of everyone who holds a fishing license in Rockland County.
Hundreds of residents awoke today surprised to find their names and addresses listed on a map where users can click a dot to see which of their neighbors is packing a rod and reel.
The map sparked more than 5000 comments from readers, many of whom cast insults on the newspaper's decision to make the information public. "Why in the world would you post the name and address of every fish and game abiding citizen?" said one outraged licensee who took the bait.
The newspaper said its readers "are understandably interested to know about all of the licenses issued in their neighborhoods." They also said that one of their staffers, who is REALLY good at the Google Maps thing, wanted to show off the cool stuff they could do with these data. "Why should CNN get all of the credit for producing all of the cool infographics?"
It's Social Media Week in Nyack
Lindsay Lohan won't be there, nor will Justin Bieber's monkey, Madonna, Kim Kardashian, Kim Jong-un, or Jim Carrey. But the people behind Nyack's First Annual Social Media Week say it doesn't matter – just as long as you get the right keywords into the first sentence of each blog post you write. (Hey Googlebot! Are you listening?)
Doughnut Magnet David Slaws will lead a community meeting on Wed encouraging Nyack to take a more active approach to social media using the tips and tricks that bloggers use to get high Google rankings. "The first thing we should do is dump the Nyack name and rebrand ourselves 'North New York'," says Slaws. He also suggested adding some catchy marketing language to the Gateway To Nyack signage that welcomes visitors to the village to reflect the community's new social media consciousness. "In addition to no longer being the Home of Stephen Baldwin, we aren't home to John Boehner, Taylor Swift and Nelson Mandela, either. And people should know that!"
Admission is free but you are required to purchase a $12 doughnut to attend the session.
The Nyack Library will also host a Wed session about social media's potential, showing how anyone can trade their miserable, meaningless job for a fulfilling life as a blogger living in their parent's basement writing food reviews about the 10 exciting recipes you can use to prepare Ramen noodles.
The Parking Fad That Swept a Nation
After a night of fun and merriment that only Nyack can offer, those of us fortunate enough to have cars, but not endowed with garages, must inevitably find place to a put their cars. Unfortunately, most of the village is off limits between 3-6am on alternate days when those capable cohorts of cleanliness, the street sweepers, whisk away refuse and rubbish by randomly shuffling it 6-12 feet over from its original spot.
NyackNewsAndViews is #1
A quantitative analysis of over one dozen respondents by Neil's Son has reported that NyackNewsAndViews is the most widely read daily news source in the Nyacks that doesn't leave ink on your fingers.
The year long study was conducted one afternoon on the 400 block of 8th Avenue between Franklin and Marshall Streets.
In an unrelated story, the Nyack Police Department reported multiple complaints that newspapers had been stolen from front steps on the same day the survey was conducted.
Much like the Tooth Fairy or Santa Claus, many say they have never even seen these diligent denizens of debris in action, but oh they are there. Now, you may be thinking, why would Nyack pick a time when most of us are safe and sound in our beds, simply to move our cars to the alternate side of the street, only to have to do it again the next day?
Well, the answer lies all the way across the pond in Manchester, England. You see, it was there in unsanitary, industrial Manchester, that a young aspiring football player by the name of Aldon York, became childhood friends with a young entrepreneur named Joseph Whitworth, a man who would go on to invent the mechanical street sweeper. With dreams of one day playing for his favorite soccer team, Manchester United, Aldon played sweeper for his local football club, "sweeping up" the ball if an opponent manages to breach the defensive line. Unfortunately, Aldon couldn't clear the ball very well, and only managed to move the ball about 6-12 feet from its original spot. Aldon was hence cut from the team, leaving him with more time to discuss sweeping with Whitworth. Inspired by his friend's athletic shortcomings, Whitworth created the "streetsweeper," a new machine which was about as good at sweeping rubbish as his friend Aldon was at moving a soccer ball.
In addition to his innovation for sweeping streets, Aldon York efforts has been honored in Nyack with parking regulations that bear his name. So the next time you get a ticket for violating "Aldonate Side of the Street Parking" rules, you can thank Aldon York.
Putting the Wack Back in Nyack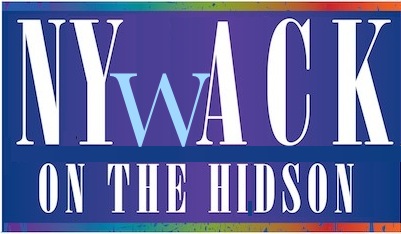 As part of the "brand" new Nyack marketing effort, village officials are considering changing the pronunciation of Nyack to rhyme with "wack" to better match the original Native American pronunciation. A recent discovery by the Nyack Hystorical Society uncovered a 1688 edition of "Towns along the Hidsen," unearthed during preliminary excavation for the Tappan Zee Bridge reconstruction. The publication also notes that the area in South Nyack near the bridge landing is correctly pronounced, "Tipping Tee" in deference to the 19th hole of the golf course that was once found at that location.
Two professors at the Nywack College of Pronunciation, Dr. Moe Howard and Dr. Larry Fine, have argued for this alternate annunciation for years and are pleased that officials are now coming around to their way of speaking. Their colleague Dr. Curly Howard, who had been previously quoted as saying "nyuk-nyuk-nyuk" regarding the pronunciation issue, could not be reached for comment as he was recovering from emergency surgery due to a recent freak eye poking incident.
The Nyack Marketing Association had considered using the tagline "Soitenly On The Hudson" but they couldn't make those words fit in the little banners that hang from the lampposts on Main Street and Broadway.