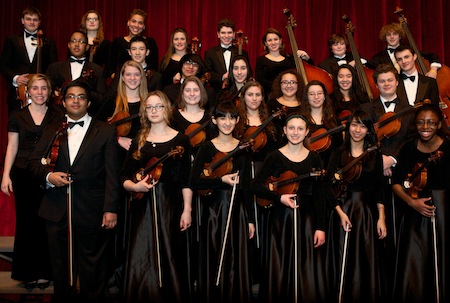 It's a little like winning the People's Choice Award and then winning the Oscar. Nyack High School's Chamber Orchestra received a Superior rating in last weekend's American Strings Teachers Association National Orchestra Festival in Providence, RI finishing third out of seven elite schools in its class. Last month, the school's music program won a prize valued at $11,000 as the top popular vote recipient in the NEMC "Music Is Life" contest.
"I think that there are a handful of moments in a music teacher's, or athletic coach's career where everything comes into place—the whole group has that  talent, drive, work ethic and passion that creates an incredible combination," said Music Department Chairperson and Orchestra Director Christine Gero. "Almost all of these students started in Nyack's 4th grade Beginning Strings Program and many of them were in my elementary classes.  To have been with them on the first day they opened up their instrument cases to now has been an unbelievable 7-9 year process.  They stood alongside schools and music programs four times larger than ours last weekend and gave an incredible performance.  It shows that when you work hard, believe in yourself and set the bar high—greatness is possible."
Nyack's Chamber Orchestra will be performing and competing in Prague and Vienna later this month in the 2013 Young Prague Festival Competition.
Fifteen school orchestras from around the country performed at the American Strings Teachers Association National Orchestra Festival. This is Nyack's third trip to the annual festival, but it's the first time the school has placed among the top schools in the country. Orchestras are selected to participate in the national festival based on their application and supporting materials. The festival encompasses Youth Orchestras, Middle School Orchestras, and High School Orchestras in their choice of Competition, Ratings and/or Comments categories. All festival groups receive feedback from invited adjudicators. Each group also receives an educational clinic directly after its performance from one of two clinicians.
The "Music Is Life" contest was sponsored by NEMC, a 50-year old music instrument rental company that supports independent music retailers across the country. As the winning school, Gero will select a prize package for Nyack's Music Department of new marching band, concert band or orchestra package instruments worth $10,000.
See also: