Group Working on New Album Following Death of Founding Band Member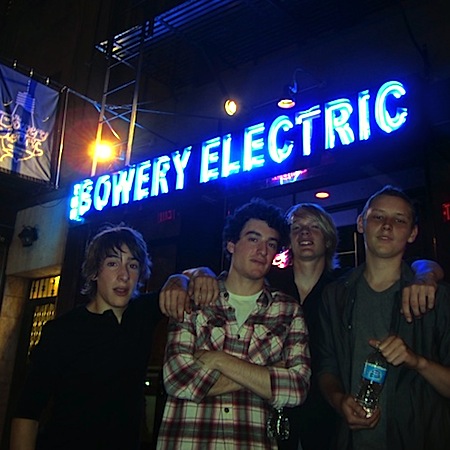 by Lyndon Nicholas
Regret the Hour is an all-original alternative rock band formed by Nyack High School students Nate McCarthy, Ben McCarthy, Jesse Yanko, and Anders Fleming. Despite their age, the band has achieved a considerable degree of success. Since their formation in 2010, they have released two EPs, one full-length album, played at various New York City venues including Arlene's Grocery, Sullivan Hall, Kenny's Castaways, The Bowery Electric, Pianos, and shared the stage with acts ranging from The Chapin Sisters to Dave Mason to the Vanguard.
Those who live in Nyack are probably used to seeing Regret the Hour's stickers on stop signs and street corners, and hearing their music echo from local venues like Olive's and Casa Del Sol.
Regret the Hour is known for their distinctive sound, which dips into a number of different genres. "Singer Nate McCarthy's unique vocals act as the perfect glue that hold together all the whimsical melodic phrasing and brilliant guitar harmonies," Surface Noise reviewer Matt Degroat writes. "With chiming, churning melodies reminiscent of U2, the brainy edginess of Radiohead, and the infectious hummability of Kings of Leon, the band's music is smart yet accessible."
In July of 2012, Regret the Hour set up a makeshift studio in an old factory building on High Ave. Over the next few months, with the help of producer/engineer Marek Stycos, the band wrote and recorded tracks for their upcoming record, "Better Days," their first real studio effort, which will be released on April 13th, 2013.
In November of the same year, just weeks into the mixing of the album, bass player Jesse Yanko died after a long, hard-fought battle with cancer. He never had a chance to hear the finished product, though his legacy lies within the band's music, which is available for download on iTunes, Amazon MP3, and CdBaby.
The date and location of the band's acoustic, CD-release show is expected to be announced soon on their Facebook page.
Lyndon Nicholas is a 2011 graduate of Nyack High School who now attends Northeastern University in Boston.
See also: Regret The Hour on MySpace, YouTube, and on Main Street in Nyack