by Lisa Levart
Creativity is like a spark of electricity. In ancient Greece this catalyst was believed to have been a wondrous gift from the Gods and Goddesses, the Muses in particular. The Three Graces were ancient Rome's artistic benefactors. Today, it's generally believed that our creativity lies within ourselves rather than being a gift from outside. Scientists studying the brain call this powerful force, "fluid intelligence" or the imaginative ability to solve new problems independent of previous knowledge.
Steve Jobs, in Wired Magazine said: "Creativity is just connecting things." True, but these connections usually come after tirelessly working at one's craft. In Meredith Moran's new book Why We Write, the Chilean writer Isabel Allende shared her philosophy on inspiration; "Show up, show up, show up, and after a while the muse shows up, too. If she doesn't show up invited, eventually she just shows up."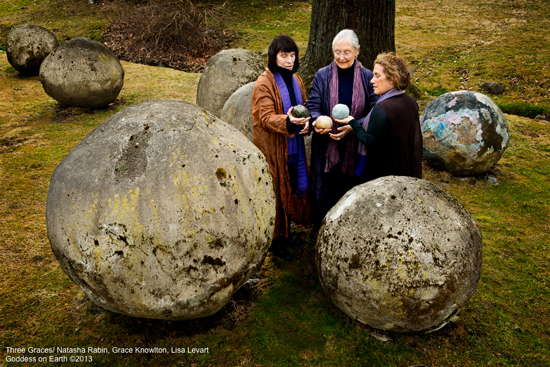 Sometimes these muses, or connections, occur when we take a break from our routine and let our minds wander freely. When I was a dancer in my twenties, the choreographer Twyla Tharp was an inspiration to me, so it wasn't surprising to connect with the wisdom in her book The Creative Habit: Learn It and Use It for Life. She wrote; "Reading, conversation, environment, culture, heroes, mentors, nature – all are lottery tickets for creativity. Scratch away at them and you'll find out how big a prize you've won."
sTatES of gRacE
Natasha Rabin's "States of Grace" show, a collection of works inspired by artist and muse Grace Knowlton is on display at the Corner Frame Shop in Nyack at South Franklin and Depew Avenues  thru March 24.
For my friend, the painter Natasha Rabin, an inspired moment occured at an art exhibition which included her work, as well as that of the artist Grace Knowlton, known for her earthly spherical forms. From their chance meeting, a connection was made and Grace became a muse for Natasha's new series "States of Grace." When I saw Natasha's vibrant new paintings, I was inspired by her inspiration – and the electricity flowed.
On a recent, chilly winter afternoon, the three of us met at Grace's magical home. Clay, concrete and painted steel spheres dotted the landscape as though they had rolled down the hill in some prehistoric era, settling in gentle clumps. We gathered, Grace, Natasha and I amongst these organic forms, contained, protected and joined in spirit. Entitled "The Three Graces" this image expresses the inter-connectivity of inspiration and how we feed and nourish one another in our creative pursuits.
Lisa Levart is an award winning photographer whose images have appeared in numerous publications and exhibitions worldwide. Her book of portraits, Goddess on Earth, received the GOLD Nautilus Book Award and features many women from the Rockland area. Goddess on Earth can be purchased at Saffron and Sanctuary in Nyack and online at GoddessOnEarth.com.