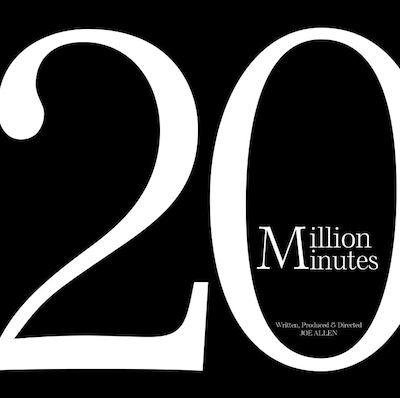 by Donna Schmidt
"If we don't tell this story, soon there will be no eyes to look into, no hands to shake," explained Joe Allen, local filmmaker talking about his new film 20 Million Minutes. Allen spent two years shaking hands, wiping tears and making sense of a 40 year old tragedy. He traveled to Israel twice and to London prior to the Olympic Games Opening Ceremony, adding to his total 55 interviews of 45 different people. The film will debut at Rockland Community College at 8:30p on March 16.
The tragedy is the events of September 5, 1972, that left 11 members of the Israeli Olympic Team slain at the hands of terrorists from Black September. The spirit of peace and brotherhood, the hallmark of the Olympic Games screeched to a halt that day. The attack shook the world, not only Jews but all people. "I remember it clearly," said Allen, "I remember thinking; I cannot believe this could happen during the Olympics. I wait four years to watch–how could this happen?" Those watching witnessed the International Olympic Committee refusing to halt the Games until late in the afternoon of the hostage-taking day. They insisted that the athletes should carry on as if nothing happened. The man behind that decision, and the even more controversial choice of resuming the Games after a memorial service was the American IOC President, Avery Brundage.
For forty years Ankie Spitzer and Ilana Romano, two of the Munich 11 widows, along with the other families pleaded with the International Olympic Committee to honor their husbands with a minute of silence at the Olympic Games. "They were killed on Olympic soil, why should they not be remembered there," Spitzer spoke more times than she cares to remember. The answer had always been a resounding "no."
The events that occurred 40 years later in 2012, prior to the London Olympic Games are the focus of the movie. This time, unlike the others, with forty years at their back Spitzer and Romano joined forces with the JCC Rockland. Together, they set their goal as nothing less than the International Olympic Committee changing their mind and holding a Minute of Silence. What began as the JCC Rockland "Minute of Silence" campaign grew into a global cry where ordinary people from 155 countries were able to make a difference, to have a social media voice. For the first time individuals, some of whom were in Munich in 1972, but most who just remembered the events from watching ABC's Jim Mckay speak the words, "They're All Gone," signed a petition on change.org demanding the IOC hold a minute of silence or similar commemoration for the victims.
The petition garnered 111,929 signatures in a few months with thousands of accompanying comments. It was supported by President Barack Obama and Secretary of State Hillary Clinton, and was the catalyst that sparked more than 10,000 articles and awakened governing bodies in the United States, Israel, Great Britain, Germany, Italy, Australia to name a few."I remember what Rocklander Art Wagner said when I interviewed him," recalled Allen. "In all these years I never thought that I could actually do something to influence the world about this, but we did."
"One of the amazing things was to meet and deliver the petition personally to Jacques Rogge, then President of the IOC. He may not have agreed to do the minute of silence but we got a chance to tell him that people all over the world thought he was wrong." explained Allen.
Allen never met a big dreamy idea he didn't like. He became involved in the story through David Kirschtel, CEO of JCC Rockland. "I have been very lucky," Allen admitted, "the places I have been during this process and the people I have met were extraordinary. When I met some of the children of these men and spent time with them, I told myself I would do anything I could possibly do to give them closure."
Creating the film wasn't certainly not been easy for Allen, a Senior Vice President at global trading company Active International and President of Rockland's People to People food pantry. Allen has an extensive background creating corporate films; but this is Allen's first full length documentary. Writing, directing and producing the film, Allen felt as if he was walking a balance beam with exhilaration on one side and terror on the other. "My grandmother, truly a Renaissance woman, who hailed from Russia through South Africa to the United States, taught me that there is nothing I cannot accomplish," recalled Allen. "If any of us was struggling academically or with anything else, she would take our textbook and tell us to be at her house after school. She wouldn't let us leave until we excelled in that subject. That was the kind of woman she was, she lived with no fear and was way ahead of her time."
"Working in a vacuum like this was very hard, but I like to see myself as a storyteller. That is what I do best, whether with video, words or music," maintained Allen. He would have preferred to be part of a team, as one functioning body, and while there have been many eyes on the creation of "20 Million Minutes," he spent a great deal of time along, in front of his computer.
Allen will present the documentary to the JCC to serve as an educational tool about Munich and to inspire others to pursue their dreams and causes. The JCC intends to make the film a curriculum guide available to film festivals, other organizations and schools.
For now, Allen who is a serious man with a childlike twinkle continues to dream big and to conjure up new ideas for cause-related documentaries. In this life, he will stick with his day job served with a side of filmmaking. But In his next life he wishes to be in a band or a sports team. "Yes I would….in fact I wouldn't mind being in the Eagles or a Member of the E Street Band….or going back in time and being part of the '69 Mets or perhaps even the USA Hockey Team!"
"20 Million Minutes" tickets are on sale and can be purchased at www.jccrockland.org. Tickets are $18 for the film or $50 for the film and VIP Reception after the film. You may also purchase tickets to a showing of the film on April 10 at the JCC Film Festival.