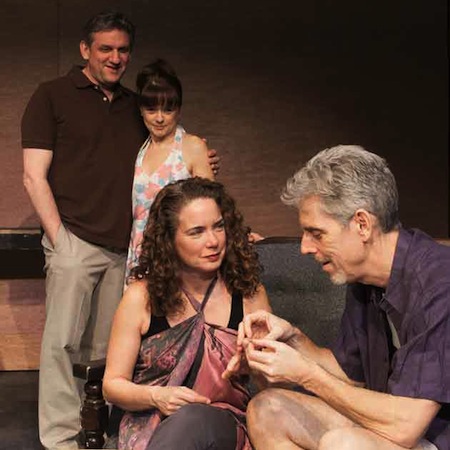 Nyack, March 15 — Beginning tonight, you can go out for a "Dinner With Friends" in Nyack. You won't actually get dinner and these aren't really your friends. But you will get to see a Pulitzer Prize-winning play by Donald Margulies at Nyack's Elmwood Theatre which opens tonight and continues every Friday, Saturday and Sunday through April 13.
The story is not just a thoughtful study on divorce, but a turbulent meditation on the minefield of middle age.  Happily married Gabe and Karen have been friends with Tom and Beth for many years.  While having dinner with Gabe and Karen, Beth tearfully reveals that she is getting a divorce.  Over the course of the play, we witness the effects of Tom and Beth's breakup on Gabe and Karen, who first feel compelled to choose sides, and then begin to question the strength of their own seemingly tranquil marriage.  The play exposes the same, universal insecurities that people face every time there are shattering changes in their lives. Margulies' characters are normal and real, they are our family, friends, and the people next door.
Debra Lee Failla returns to Elmwood to direct Dinner With Friends after directing their productions of The Elephant Man and Rabbit Hole. The cast hails from towns on both sides of the Hudson: Steve Taylor of White Plains, Claudia Stefany of Tappan, Andrew Greenway of Piermont as Tom, and Mary Ashley of Nyack as Beth.
For more information and to purchase tickets, visit Elmwood Playhouse online or call (845) 353-1313.