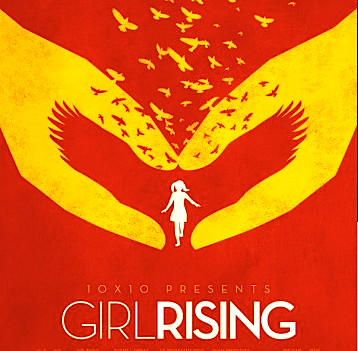 by Dara Erck
There's an incredible film about educating and empowering girls as part of a global campaign which I want to bring to Rockland County. And with your help, we can do it!
Girl Rising tells the stories of nine girls from around the world who face – and overcome –unbelievable obstacles on the path toward getting an education. Each girl's story was written by an author and is narrated by a cast of great actresses, including Meryl Streep, Kerry Washington, Anne Hathaway, Salma Hayek, Alicia Keys, and others. The cinematography is stunning. I'm excited to be involved in a global effort for girls' education.
Like the 66 million girls around the world who dream of going to school, the young women in this film want a chance to be students. And now, by sharing their personal journeys, they have become teachers.
Don't believe the hype? See for yourself by watching the trailer.
We're planning a screening on Monday April 15 at 7:30p at AMC Loews Palisades, but we need to sell 100 tickets in advance to secure the date and the showing. A portion of Girl Rising ticket sales will help fund programs for girls, so seeing the film literally makes an impact on girls' lives. You can do your part for girls everywhere buying a ticket for this screening. You will only be charged for your ticket if we succeed in booking the movie.
It's a great opportunity to inspire girls who live here while helping girls who live all over the world. Please sign up for the showing and help spread the word about this great event!
Nyack resident Dara Erck is a member of the Council on Foreign Relations (CFR) and a consultant to The Bill & Melinda Gates Foundation.  After seeing a screening of "Girls Rising" at CFR, she was so impressed by the film, the producer and one of the writers, she decided to try to bring the movie to the Lower Hudson Valley and North Jersey.