For over a century, our region has been the home of extraordinary artists from the major disciplines such as performance (Helen Hayes), visual arts (Edward Hopper), literature (Carson McCullers), and music (Kurt Weill). Local Arts Index highlights the work of artists who continue our community's rich creative legacy.
Dan White was born in Haverstraw in 1970, the youngest of four children to Rina and George White, Sr.  Both his parents worked for Rockland County.  His father was a noted landscape painter. He lives in Nyack with his wife Dena and his son Benjamin.
After graduating from the North Rockland High school in 1988, he has received an A.A from Rockland Community College and a B.A. in Creative Writing from SUNY/New Paltz in 1995.

What kind of art do you make?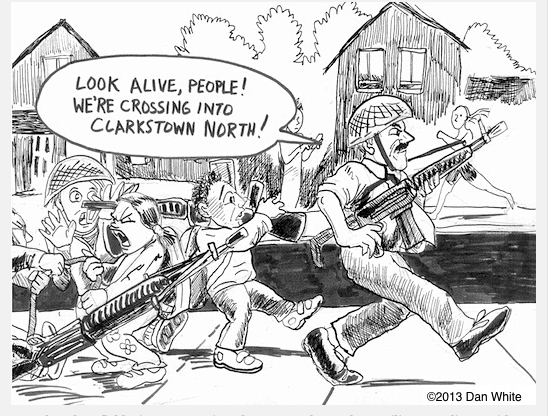 I draw. For as long as I can recall, I drew. Put a pencil or pen in my hand and a blank page in front of me and I'll find a way to fill it.
I mostly work in pen and ink on paper, but have broadened out to use brushes. My most recent pictures use ink wash for gradation and dry brush for texture. I'm trying to incorporate more color in my work. Because most of my drawing is done on my commute, I've taken to using color markers, mostly because they're easy to transport. If I'm extra-motivated, I bust out the watercolors.
I do a good amount of sketching from life. Because it can be such a secretive operation ("It's not polite to stare!"), renderings are done quickly and used as guides for fleshing out compositions later. Much has to be compensated by memory or filled out by imagination.
My great love though are comics and cartoons. It's not enough for me to simply have a static image on a page. I enjoy narrative and still have aspirations as a writer, so I'm always making up stories. Comics are the perfect medium for that. If there is a "cartoonish" quality to my work it's because neither medium is exclusive of the other in my mind. I need the life-drawing to give depth to the comics, and in turn, the comics remind me to include drama in a composition.
What is your muse?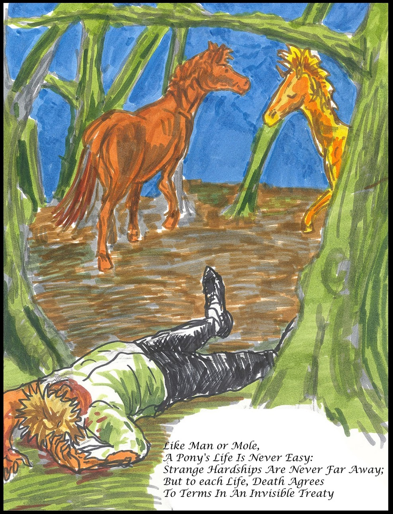 It irks me to think of people as separate from their surroundings, natural or artificial. I try to capture them where they are at that moment. We dismiss this as some sort of disposable age, but even though we may find ourselves facing a tiny screen, it still has value as a document of the time.
My earlier work was more foreground with little or no frame of reference. Increasingly I'm trying to fill out backgrounds and surroundings. This has even led me to consider landscapes, which I've always considered my father's domain.
But my first and most enduring love remains monsters! I drew a lost of dinosaurs as a child and still draw them to this day, as well as whatever creatures I can yank from my mind.  If I can sneak a scalely thing in the frame now and then, I'm pretty happy.
What's Next?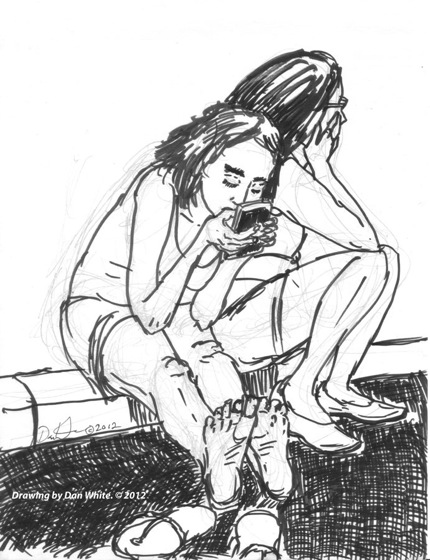 Making art is a deeply personal affair. I've only recently begun to try and publicly display my work. In the last two years, I've displayed my drawings at the Nyack Starbucks on Main Street and Art Cafe on Broadway. This year, I'll be showing again at both this May and June respectively.
I've also been creating satirical cartoons for NyackNewsAndViews. I continue to post a variety of art and cartoons at my Sarah Loves Picnics and Uncle Otto's Free Fun Coloring Pages blogs.  (Kids can find pictures to color at the latter site).
I hope to publish a graphic novel or two in the next few years. I'm also seeking out opportunities as a freelance illustrator.
See also:
Local Arts Index in sponsored by Maria Luisa, 77 South Broadway and ML Gifts & Accessories 75 South Broadway, Nyack, NY