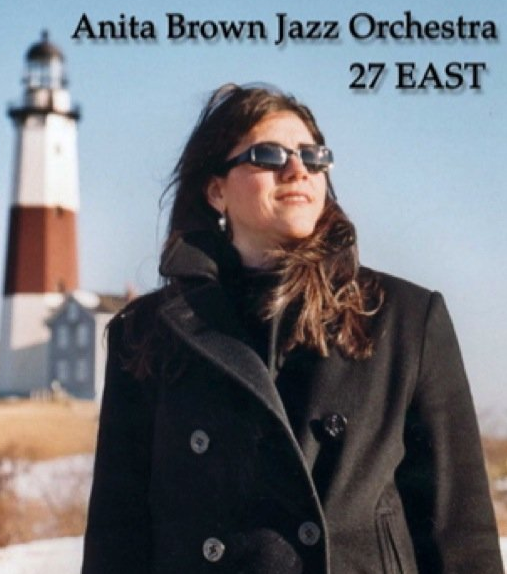 For over a century, our region has been the home of extraordinary artists from the major disciplines such as: performance (Helen Hayes), visual arts (Edward Hopper), literature (Carson McCullers), and music (Kurt Weill). Local Arts Index, a new weekly feature on NyackNewsAndViews, highlights the work of an artist who continues our community's rich creative legacy.
On September 10, 2011, Anita Brown premiered Stand: A Symphony for Jazz Orchestra. The commemoration and orchestral depiction of the American experience surrounding our national tragedy of 9/11 was performed by Anita Brown Jazz Orchestra in Memorial Park and featured the United States Marine Corp Silent Drill Platoon.
Anita Brown is the daughter of Phyllis & Ted Brown, both 85, who met studying with legendary jazz artist, Lennie Tristano in the 1950's. Ted is a renowned tenor saxophonist and is actively performing and recording in Greater NY. Anita's younger brother Jeff, a Westchester resident, is a jazz drummer.
What Kind of Art Do You Make?
I primarily write music. I compose mostly for my professional 17-piece jazz orchestra, Anita Brown Jazz Orchestra, but I also compose in the R&B/crossover genre and write children's songs with lyrics.
I have written teaching materials, essays,published  articles, and most recently a children's book (fiction) addressing the topic of tolerance.
With some drawing skills I am the visual artist behind the oil-crayon logos for all of my websites.
What is your Muse?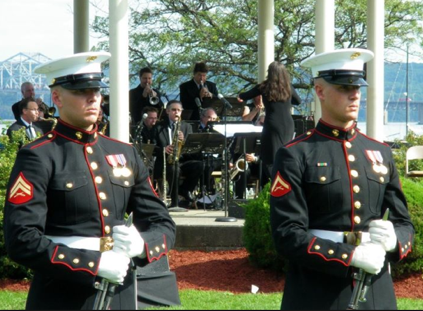 An event, something of great beauty, a marvel of sorts or a personal experience has been my muse most consistently.  At times it's simply an idea to teach something when composing children's songs and curricula, but mostly it is a personal, profound response to something in life.
In five movements, Stand: A Symphony for Jazz Orchestra (2011) tells a definitively American story, from before 9/11 through today, spanning the broad spectrum of emotions, ending with a strong anthem-like movement with unison vocals, inviting the audience to symbolically *Stand* in song, as one people.
Alexander's Lullaby Waltz, was composed at the birth of my nephew (now 14); Add Venom, Shake Well is a response to an emotional wreckage; 27 EAST , Shifting Tides of Montauk and The Lighthouse are responses to varying aspects of the beauty and serenity of the sea at Montauk, NY (all from my CD, 27 EAST, 2003).
What's Next?
My first work for symphony orchestra, Disarming The Tempest will be read by The Buffalo Philharmonic Orchestra in a concert-like run through in April. The American Composers Orchestra, Columbia University and The Herb Alpert School of Music at UCLA are sponsoring the performance.
Disarming The Tempest is a symphonic poem illuminating the plight of returning combat veterans suffering from PTSD (Post Traumatic Stress Disorder.) More detailed information is at anitabrownmusic.com or standsymphony.com.
Beyond that, I am seeking grants to continue to perform and properly record Stand: A Symphony for Jazz Orchestra and to get another project, Operation Dovetail, off the ground.  Operation Dovetail is a presentation and supporting website for returning combat veterans that seeks to introduce the value of becoming involved in the creative process as one facet of their healing.
Anyone interested in supporting Anita's work as a teaching artist may make a one-time or recurring tax-deductible contribution at anitabrownmusic.com.

Curated by Bill Batson
Photo credits:  Krista Wortendyke and Richard Kavesh
Local Arts Index in sponsored by Maria Luisa, 77 South Broadway and ML Gifts & Accessories 75 South Broadway, Nyack, NY