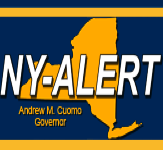 Just when you thought the roads were clear and everything was back to normal, the National Weather Service has issued a  Freezing Rain Advisory for  your Monday back to school/morning commute in the Lower Hudson Valley, Northeast New Jersey, Southern Connecticut and Long Island.
A Freezing Rain Advisory means that periods of freezing rain or freezing drizzle will cause travel difficulties. Be prepared for slippery roads. Slow down and use caution while driving.
Hazard types… freezing rain… possibly mixed with snow and sleet at times.
Ice accumulations… around a trace.
Winds… southeast 5 to 10 mph.
Temperatures… in the upper 20s to lower 30s.
Timing… after 3 am tonight through Monday morning.
Impacts… freezing rain… possibly mixed with snow and sleet… will make travel hazardous late tonight through Monday morning. Untreated roads will become slick and icy. Conditions should improve late Monday morning as temperatures rise and the wintry mix changes to plain rain.
The Monday forecast calls for snow and freezing rain before 9am, then rain. Patchy fog. High near 45. Southeast wind 5 to 7 mph becoming southwest in the afternoon. Chance of precipitation is 100%. Little or no ice accumulation expected. Little or no snow accumulation expected.
Source: National Weather Service, 2/10/2013