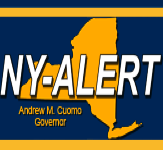 Nyack, Feb 7 (updated 5p) — The National Weather Service has issued a Winter Storm Watch for Friday through Saturday afternoon with strong winds creating "near blizzard conditions."
Here are predicted accumulations from the NWS as of 5p Thursday:
Thursday overnight: Less than a half inch.
Friday: 3 to 7 inches.
Friday night: Heavy snow — 8 to 12 inches.
Saturday: Around an inch.
Forecast for Lower Hudson Valley and Western Passaic

Hazard types… heavy snow… freezing rain… and strong winds.
Accumulations… snow accumulation of 10 to 14 inches… along with around a trace of ice.
Winds… north 10 to 20 mph with gusts up to 50 mph.
Temperatures… in the upper 20s.
Visibilities… one half mile or less at times.
Timing… Friday afternoon into early Saturday morning.
Impacts… heavy snow and freezing rain will make for dangerous driving conditions. In addition… the heavy snow and strong
Winds could result in near blizzard conditions… bringing down some tree limbs… and causing scattered power outages.

Precautionary/preparedness actions: A Winter Storm Watch means there is a potential for significant snow… sleet… or ice accumulations that may impact travel. Continue to monitor the latest forecasts.

Source: National Weather Service, 6:27 AM EST on February 07, 2013