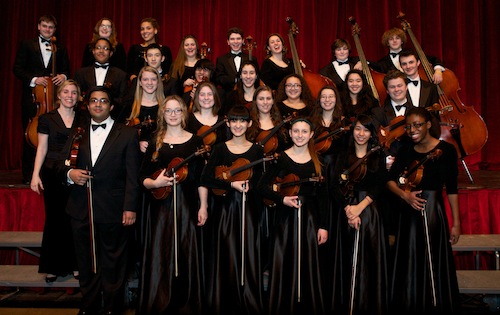 NHS Chamber Orchestra Plays The Carnegie Room, Then Prague
If  the Friday-Saturday snowstorm left you tired of staying indoors, you can look forward to a special Sunday night Carnegie Room concert. The Nyack High School Chamber Orchestra, under the direction of Christine Gero, will perform the music of Sibelius, Dvorak, Vivaldi, Elgar and Michael Adelson at 7:30p at the Nyack Library. For tickets and more information, visit CarnegieRoom.org.
The Sun Feb 10 concert will be one of the last public performances by the talented Nyack High School Chamber Orchestra before they being their European tour this Spring.
Nyack Chamber in Prague
by Ariel Brogno
If you're reading this website, you are probably familiar with the many arts groups that make Nyack the thriving community we all know and love. Among these wonderful organizations is the Nyack High School Chamber Orchestra. Yes, I did say '€œhigh school,'€ but before you roll your eyes, take a minute to learn about this amazing group of young musicians'€¦
Chamber has always been known amongst staff and students as a marvelous group of strings players. This prestigious orchestral group has been a proud part of Nyack High School's music department for almost ten years. In that time, Chamber has won countless awards including the 2010 National Orchestra Cup. We have also been invited to perform in many competitions and at many concert halls around the country including Carnegie Hall and Lincoln Center. This year, for the first time, we have been invited to play at a music festival and competition internationally '€" in the Czech Republic! We will be performing at the Young Prague Festival this coming March. We students could not be more excited for this wonderful opportunity to experience the land of Dvorak and Mahler.
During this trip, we will play a total of three concerts. Our repertoire for these events includes: Dvorak's 1st and 4th Waltzes, Vivaldi's Concerto Alla Rustica, Elgar's Serenade for Strings, and Sibelius' Andante Festivo.
Please come hear us perform Sunday, Feb 10th at the Nyack Library's Carnegie Room. Please also consider making a tax-deductable donation to help support the cost of this trip.
Ariel Brogno plays the viola in the the Nyack High School Chamber Orchestra.