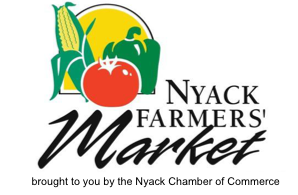 Each week the Nyack Winter Farmer's Market features farm produce, baked goods, wine & cheese and other culinary delights. On Thu Feb 7 there will be a few additional attractions on the menu, including a nutritionist, a NYS Assemblywoman, a mayor and several farm-to-table advocates.
Assemblywoman Ellen Jaffee (D-Rockland) will be on hand at the Farmer's Market on Thurs to announce her appointment as Chair of the New York State Assembly Task Force on Food, Farm and Nutrition Policy at the Nyack Center at 11a. Joining Jaffe will be Nyack Mayor Jen White, Rockland Farm Alliance President John McDowell, food policy expert and author Joan Dye Gussow and cookbook author and culinary educator Julia Della Croce.
To show her commitment to programs that nourish children, families, and communities, especially those that are underserved, with healthy, safe with sustainable locally grown food, Jaffee has also invited:
Marion Oswald-Breland, Director, Haverstraw Center
Jane Brown, Executive Director, Childcare Resources of Rockland
Michelle Kleinman, Public Health Nutritionist, Rockland County Department of Health, Division of Health Promotion and Education
Nathan Mungin, Executive Director, Martin Luther King, Multi-Purpose Center
Diane Rivera, Executive Director , West Street Childcare Learning Center
Ouida Toutebon, Executive Director, Headstart of Rockland
Paul Trader, Executive Director, Cornell Cooperative Extension of Rockland
The Nyack Center is located at located at the corner of Depew and South Broadway in Nyack, NY.