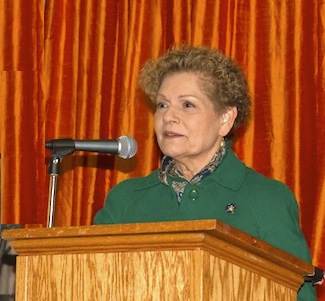 by Ellen Jaffee
New York State Assemblywoman Ellen Jaffee (D-Suffern) announced her appointment as Chairperson of the NYS Food, Farm and Nutrition Policy Task Force at the weekly Winter Farmer's Market at the Nyack Center on Feb 7.
Food policy includes support for programs to sustain our food production capacity and at the same time improve nutrition and health. Providing young children proper nutrition enables them to fully benefit from our education programs. Expanding meal programs for seniors helps maintain their health, dignity, and independence and reduce nursing home stays.
Promoting NY food and farm products, growing our farmers' markets, our farm to school programs and food based economic development is beneficial for our urban and suburban consumers and businesses, as well as rural farmers, and even the environment issues which impact our farms and communities by maintaining open space and preventing overdevelopment around our water sheds- essential for our farms.
I will be writing to Assembly Speaker Silver (which is a responsibility as Chair of the Committee) requesting that this year's budget must not only maintain but also expand funding for the Hunger Prevention Nutrition Assistance Programs (HPNAP), which provides critical support for struggling volunteer food pantries and soup kitchens serving families and seniors and the Women, Infants and Children (WIC) programs, which provides supplemental food for women, infants and children, one of the most important nutrition programs we have, ensuring that our youngest children can properly develop and thrive,
"Mayor Jen White, you've been a cheerleader for the Nyack Farmer's Market — indoor and outdoor, recognizing what an economic driver farmers markets are. And thank you Kim Cross — for opening the Nyack Center to the indoor farmer's market this winter. One more item on the list that makes the Nyack Center such a vital part of our community."
— NYS Assemblywoman Ellen Jaffee
A Robert Wood Johnson study found that obesity decreased among children who got improved food packages. Feeding kids fresh, nutritious food, like the locally-grown, nutrient-dense fruit and vegetables right here in this farmers' market, makes them grow strong and keeps them healthier. It makes them better learners and in the long term better earners.
Rob Maher, Executive Director of TOUCH , who is here with us today, is part of a study at Columbia University's Mailman School of Public Health that came to the same conclusion: Nutritious meals keep our children healthy and actually reduce costly visits to the emergency room. The science is there! Now is the time to act on the hard evidence and invest wisely in what we know, so we can prevent the crisis of childhood obesity and diabetes in our state. That's why I am saying no to cuts to the Hunger Prevention Nutrition Assistance Program (HPNAP).
Everyone complains about how much New York State spends on Medicaid. Here's a tip: Funding for food saves our state millions –if not billions– in healthcare costs down the road. And the same holds true for older adults. I will be looking closely to see if our programs provide sufficient supplies of fresh, nutritious food to keep our seniors healthy at home instead of in hospitals and nursing homes.
Asking for restorations for Farm Viability, Cornell programs and other initiatives, as well as the increase in funding for farmland preservation and other ag-related programs in the Environmental budget. Development pressure on farmland is a significant problem in the Hudson Valley and we need to provide assistance to help farmers maintain profitability and purchase development rights when necessary to make it financially viable for retiring farmers to pass along their farms to new farmers.
And what better way to grow healthy children, families and communities, than by supporting New York's farmers and food producers? Their hard work and commitment to eating local nurtures our environment and strengthens our economy.
I'm energized and ready to do the work ahead of us because we have so many advocates right here at home in Rockland. Guide me and collaborate across the state. Our local growers have led the way. And we are so fortunately to have so many human resources right here in Rockland. Joan Gussow was one of the inspirations for this task force years ago. We're so lucky to have Joan here in Rockland. Her pioneering work has revolutionized the way we look at food supply throughout the nation — and the world.
Ellen Jaffee represents Orangetown and Ramapo as part of the 97th District in the New York State Assembly.
Photo Credit: Ray Wright