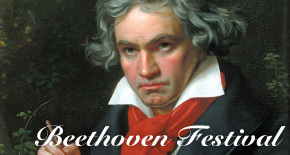 by Greg Mitchell
On Monday night, February 4, Beethoven comes to Nyack. And he'll be in town all year long — or at least his music will –  through a unique, year-long Beethoven festival in the  village for fans in the Lower Hudson Valley, New Jersey and Connecticut.
"Journeys With Beethoven" will  include dozens of concerts, film showings, a  marathon at the mall,  a massive choral sing-out in the park, plus (among other plans) a  rocking Ludwig-palooza, dance, a theater piece, events for (and recitals by)  young folks, and much, much more.
The ongoing festival was inspired by the "Journeys With Beethoven" book I co-wrote with Kerry  Candaele last year. Yashar Yaslowitz, producer of the weekly Carnegie Room  series of classical and jazz concerts at the Nyack Library, will join me as co-host at the events.   We're marking the 100th anniversary of the  first symphonic  recording–naturally, Beethoven's Fifth Symphony.
The festival kicks off at 7p on Feb. 4 with a free event–the first of monthly  "meet-ups with music" (as we call them)  focused on Beethoven, each  one with a discussion, live performances, film excerpts and guests, at the Nyack  Library. This first one will be vital, as we solicit ideas from creative artists  and others in the community.
On Feb. 13, Rivertown Film (a partner in the festival) will show the current film, A Late Quartet, starring Christopher Walken and Philip Seymour Hoffman at the Nyack Center. A panel with well-known musicians will follow the screening.
The first two concerts at the Nyack Library in the festival are  March 2 and March 23.  Later: the complete Beethoven string quartets, Diabelli variations,  and much more, all live-streamed nationally and internationally.
We will engage  the public throughout the series, asking people to plan events and also join in with  their own  Beethoven music, playing and singing and dancing, making this an unprecedented community-wide celebration.
So stay (well) tuned!
Greg Mitchell has written more than a dozen books.  He is the former editor of Editor & Publisher magazine and currently blogs daily for The Nation and for his own blog, Roll Over, Beethoven.