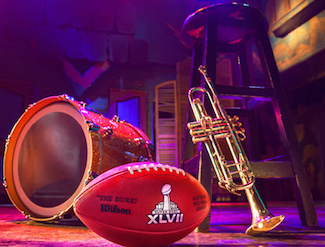 by Max Cea
As a resident of Nyack, you have had a lot to pay attention to these past few months. There was a presidential election, a devastating hurricane, and chances are you had a few parking violations. So, it is perfectly understandable if you haven't had time to follow the NFL season. Regardless of whether your football fandom ranks below your allegiance to the Democratic Party or the NRA, the Super Bowl is a cultural phenomenon and one that is best enjoyed with company. If you are indeed someone who has lost touch with the 2012 NFL season, watching football with friends can be problematic. To help get you up to speed, here's a Nyacker's Guide to the Super Bowl, consisting of four storylines that your friends and/or the announcers are bound to bring up including fascinating '€" and sometimes random '€" facts that you can use to impress your company with a few interesting prop bets to watch.
The Basics
Who: The Baltimore Ravens vs. the San Francisco 49ers
What (number): XLVII or 47
Where: New Orleans, LA
When: Sunday, Feb 3 at 6p
Why: America? Advertisements? Our culture's masochism?
Harbaugh Bowl, Harbowl, or Super Baugh?
When the Ravens defeated the Patriots two weeks ago they not only clinched a spot in the Super Bowl, they made one of the media's wet dreams come true. If you have not heard by now (you probably have and don't care) the coaches of the Ravens and 49ers are brothers. John, the older brother (50) is the fifth-year coach of the Ravens, while Jim (49) is the second-year coach of the 49ers. This is the first time that two brothers have coached opposing teams in the Super Bowl. The Harbaughs first faced off in a 2011 Thanksgiving game, in which John and the Ravens got the best of Jim and the 49ers.
Interesting Fact: A prescient football fan from Indiana named Roy Fox spent more than $1,000 to file for the trademarks 'Harbowl' and 'Harbaugh Bowl,' in anticipation that Jim Harbaugh's San Francisco 49ers and John Harbaugh's Baltimore Ravens might play some day in a Super Bowl. It did not take long for Fox's bet on the Harbaugh brothers facing off in the Super Bowl to be realized. However, the NFL has aggressively pressured Fox to abandon his patent without compensation. Which seems a little hypocritical of the NFL when you consider that they have the term '€œSuper Bowl'€ trademarked.
Bet This: Las Vegas has set 2.5 as the over-under for the amount of times the announcers will refer to the game using one of the above titles. I'd take the over.
Ray Lewis
If the Super Bowl is the only football game of the year that you watch, you may have a vague recollection of a big, scary, hulk of a linebacker that tore the New York Giants apart back in 2001. He's back. If you're first thought was '€œwow he's been around a pretty long time for a football player!'€ you would be right. Lewis has been in the NFL since 1996 and before this year's playoffs began he announced that this season would be his last. However, the method by which Lewis has remained such an impactful player '€" and was able to return from a triceps injury un-humanly quickly this season '€" is another matter, one that has led to a recent scandal in which Lewis has been accused of taking performance enhancing drugs (PED's). '€œHe took steroids?'€ you may ask. No. '€œHuman growth hormone?'€ Try again. '€œDeer antler pills?'€ Ding ding ding. Lewis, an intensely religious man, denies taking the pills, saying '€œthat's the trick of the devil.'€
Interesting Fact: Just prior to the 2000-2001 season (when Ray Lewis led the Ravens to their first Super Bowl victory) Lewis was enveloped in a murder scandal. This time around Mr. Lewis is facing PED charges. Ironically in the time between the 2001 and now Mr. Lewis was largely free of any controversy whatsoever.
Interesting Thing to watch For: Ray Lewis is the unquestioned emotional leader of the Ravens. He has a trademark dance that he does before every game '€" and sometimes when he makes a big play or they get a win. Win or lose, this game will be your last opportunity to see Ray Lewis perform this violent, herky-jerk of a dance. I would highly recommend you do not get up to fill your plate up with food in the few minutes prior to the game. You'll thank me later.
Bet this: Ray Lewis is at 50/1 odds to score the first touchdown of Sunday's game. Before making this bet take note of the fact that Lewis plays defense. That being said, if you bet one hundred dollars on Lewis you will have a chance to win five thousand dollars in profit.
The Not-So-Similar Quarterbacks
You won't find two teams whose quarterback play is much more diametrically opposed than the Ravens and 49ers. The Ravens rely on Joe Flacco, a big (6′ 6'€, 245ibs.), burly old-fashioned quarterback, with a passion for heaving the ball miles down the field. Conversely, the 49ers' Colin Kaepernick (also quite large at 6'4'€, 230ibs.) is the embodiment of new-school quarterbacking. Sometimes it seems as if there is not a skill that Kaepernick lacks. He is terrific runner, thrower, and reader of defenses. Prior to the season it would have seemed insane that one of these two quarterbacks would be vaulted into the rungs of greatness by season's end '€" especially considering Kaepernick was only entering his second season and had yet to start an NFL game. However, after this game not only will one of them probably be looked at in a brighter light, it is very likely that the league starts mimicking their respective styles of play.
Interesting Fact: While these two quarterbacks' playing styles are very different, they do share one similarity. Neither played college football at a prominent Division I power. Kaepernick was a walk-on for the Nevada Wolfpack, while Flacco played for the Division I AA Delaware Blue Hens.
Bet This: If you don't think that Ray Lewis will score the first touchdown, maybe you think that it will be Kaepernick. If that's the case, make sure you REALLY think that Kaepernick will score (not throw) the first touchdown. Kaeprnick has +1000 odds, meaning if you bet one thousand dollars on him you have the potential to win one hundred dollars'€¦ Maybe don't bet this.
Beyonce
Finally! It feels like an eternity since the Super Bowl halftime show did not feature at least one performer with a AARP card. Ever since Justin Timberlake exposed Janet Jackson and inspired television executives to air the Superbowl on tape delay, the NFL has been incredibly risk averse with their choices for the halftime show. I am twenty years old and Beyonce is the first Super Bowl act that I can remember being excited for. Hopefully nothing goes wrong and the NFL gets a little bit more progressive each year until we finally reach the point at which Kanye West is allowed to perform in his skirt. Actually, on second thought, a Beyonce wardrobe malfunction might be worth another nine Super Bowls halftime shows featuring performers who can honestly say that the recent recession is nothing compared to the Great Depression.
Interesting Fact: The average age of the post-nipplegate halftime performers is fifty two years old.
Bet This: It may be wishful betting, but Vegas is offering the opportunity for you to win one hundred and fifty dollars on a one hundred dollar bet that Jay-Z will join his spouse on stage. I probably wouldn't take this bet. I would, however, bet the odds that Blue Ivy (Beyonce's infant daughter) joins Beyonce onstage are even lower.